Companies
Community Printers Contribute to COVID Response Efforts
By Community Printers
July 8, 2020 — Santa Cruz, CA
(Photos above: A selection of Community Printers' floor graphics, designed to look like traffic signs for purposes of social distancing. Contributed.)
Local printing company rises to meet community needs during pandemic
Since the beginning of the pandemic, we at Community Printers have focused much of their work on COVID response. We are functioning in a space that didn't exist a few months ago, designing and building products with little or no precedent. Our print volumes are down by 40% and a third of what we are producing right now is directly related to COVID producing barriers, and signs.
Even our repeat work is shaped by COVID. Our clients who host events or operate public venues are on the ropes. The non-profit world is stunned and is redefining its roles. Government clients are frantically chasing solutions to keep people safe while the specter of 20% budget cuts loom on the horizon. Even online retailers whose business is doing relatively well face facility closures due to outbreaks.
Below are some of our COVID response projects.
Floor graphic production
We have produced floor graphics for over 300 local businesses, public agencies and non-profits to aid in social distancing, many of which we have donated. Our floor graphics are designed to work like traffic signs, telling people where to stop, showing people to stay to the right, creating safe places to stand in factory environments, all with a goal of maintaining safe distancing. The ideal system eliminates uncomfortable moments when passing people in doorways and stairwells.
Backdrops for "Zoom" calls
We have also been making various sizes of retractable banners with telescoping poles to properly set the height of graphics, and block out material to eliminate unwanted back light. We can also make recycleable paperboard meter boards with a lower cost point.
Hospital gowns
We learned local hospitals had an acute shortage of hospital gowns. The County of Santa Cruz donated some fabric and Community Printers converted a sewing pattern to cut file and used our robotic table cutter to cut the gowns. The local quilters organization volunteered to sew them. We cut the first batch free of charge, and the County offered to pay us to cut the next batch.
Partition walls for congregate housing
Congregate housing such as senior centers and homeless shelters can be particularly dangerous for transmission without proper sanitation and social distancing measures. We designed a system of partition walls for shelters, currently being used in four different homeless shelters in Santa Cruz County. We are now discussing using the partitions in other applications, and a meditation center is considering using them for greater separation when they reopen. We are also working with a dementia care facility to create a safe family meeting space that uses a combination of opaque and transparent panels for visiting.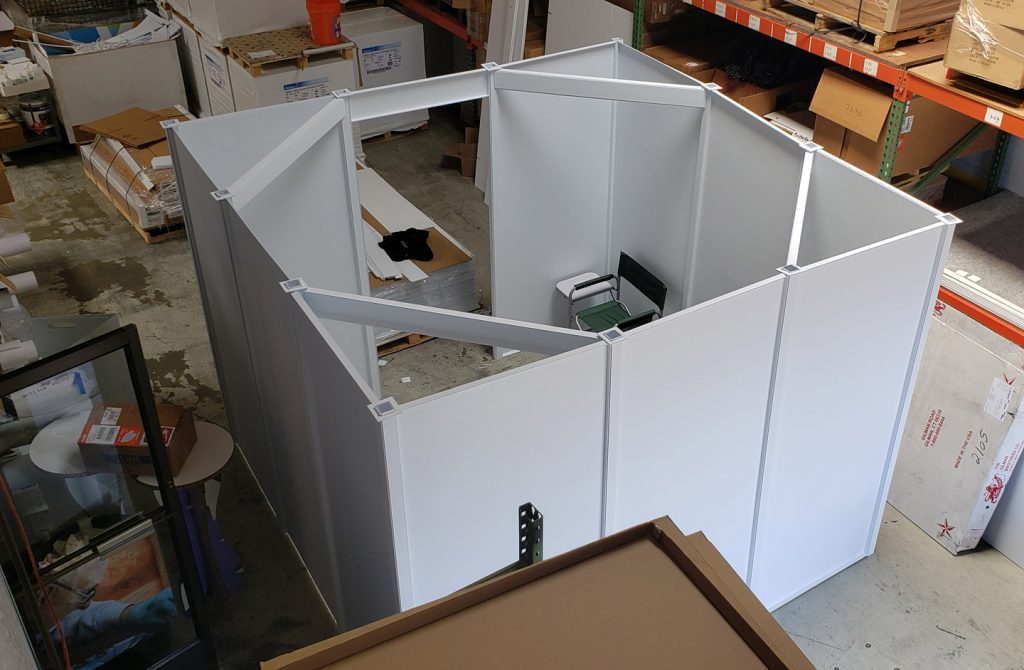 Custom Signage for indoor and outdoor applications
We are producing COVID signage for the State Parks in Santa Cruz, San Mateo and Santa Cruz County. One of the rangers told us that our signs are the nicest looking and the most functional in the California State Park System.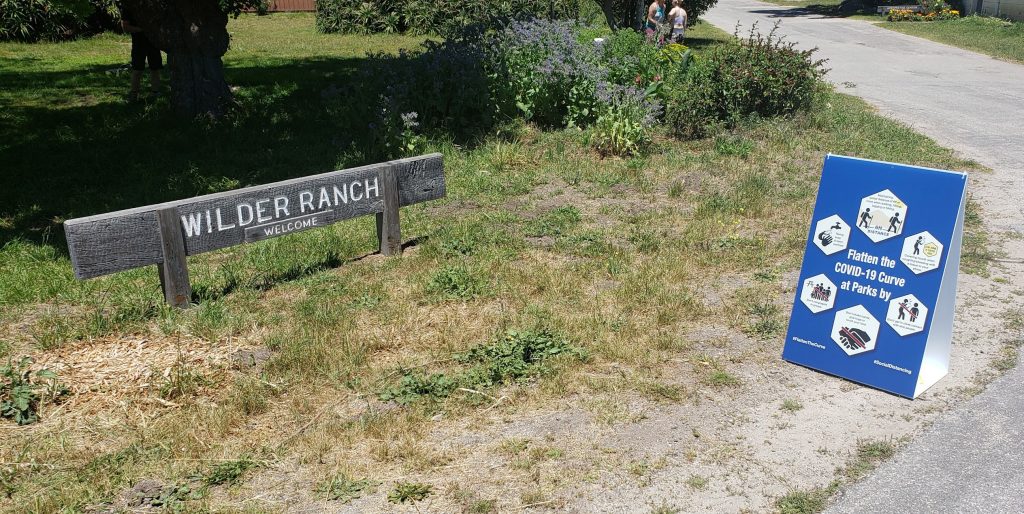 Acrylic Screens
Our sign making equipment is also excellent for producing Clear Acrylic screens. Acrylic panels have become a major way of supporting distancing in retail spaces and office spaces. We are now working with schools to help develop strategies for the fall. We have developed a line of standard table top screens and toppers to extend the height of partitions. We have also created a number of custom solutions for spaces that have very specific needs. We are working on a custom system right now to support family visits in senior care facilities. We are also working on retrofitting the County Board of Supervisors Chambers to permit safe face to face meetings with good distancing and appropriate barriers.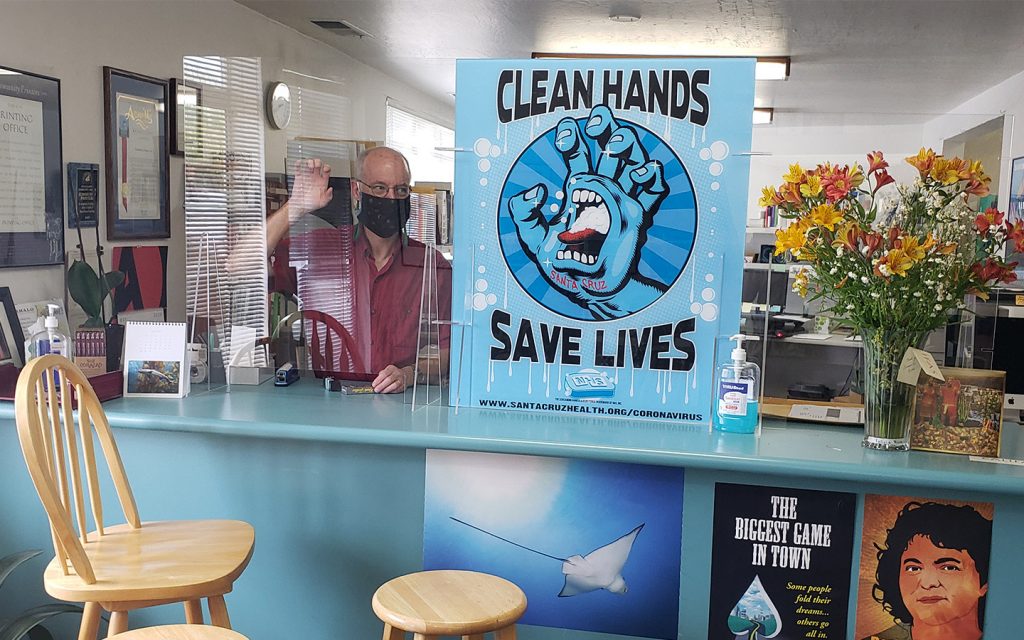 Work with Service Employees International Union and PPE For Central Coast
The pandemic has highlighted and accentuated many of the inequities that have existed in our society. Disproportionately, low income people who work multiple jobs and long hours are getting sick. We must find ways to support our brothers and sisters through the challenges ahead. One Friday afternoon, the 2.5 million strong Service Employees International Union contacted us with a request to print and distribute posters to 29 cities around the US. We had art on Monday morning and we had posters printed and on our loading dock on Tuesday for national distribution.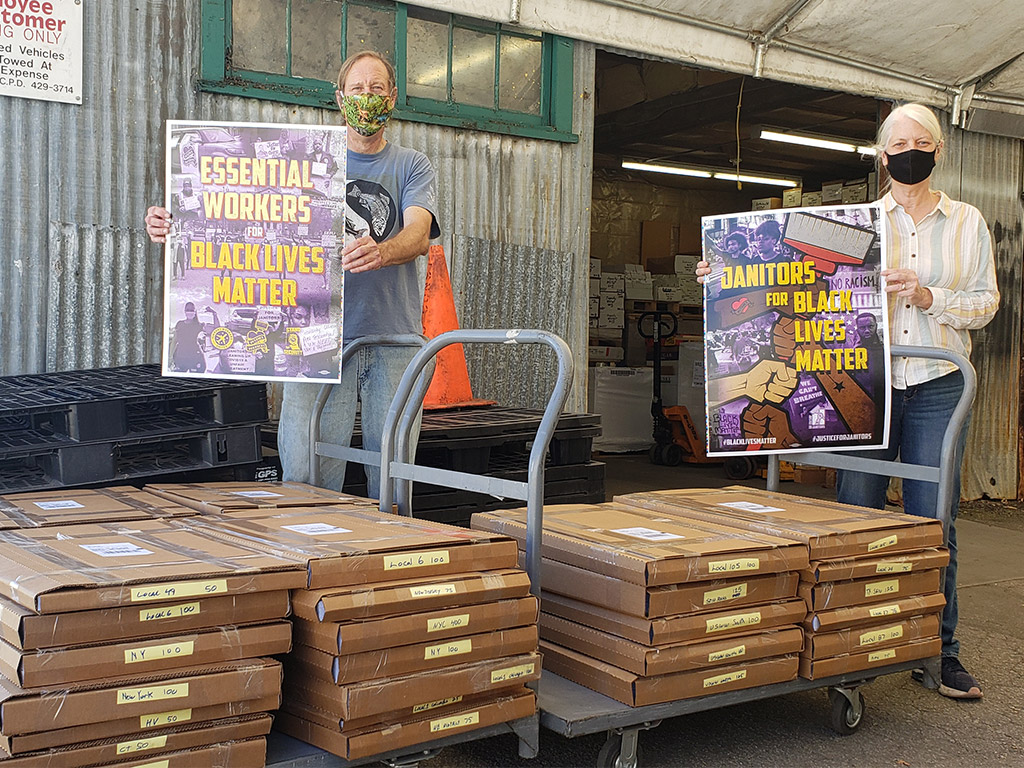 When the local organization PPE for the Central Coast obtained a donation of high quality reusable face masks, they planned to distribute them to farm workers in Monterey and Santa Cruz County, and needed informational cards to go along with the masks. Many of the farm workers who are receiving the masks speak neither English or Spanish. They speak ingenious languages of Mexico.
We connected the group with Dina Clark of Dina Clark Design who is an expert at designing info graphics that require little or no words for expressing instructions. 40,000 info cards later, the masks were being distributed throughout the two county area. Some of this work is paid, some is donated. We are committed to helping our community get through this crisis.
Essential workers wear face masks 8 to 10 hours a day, and the elastic can become very irritating. We have designed several styles of Branded Headbands to relieve pressure on the ears from all day use. While many people sell products like this, ours are unique in that we can brand them with text, graphics and even photos. When we find ourselves standing in line and staring at the back of someone's head, it is a good opportunity to pass along an important message or make a minor fashion statement.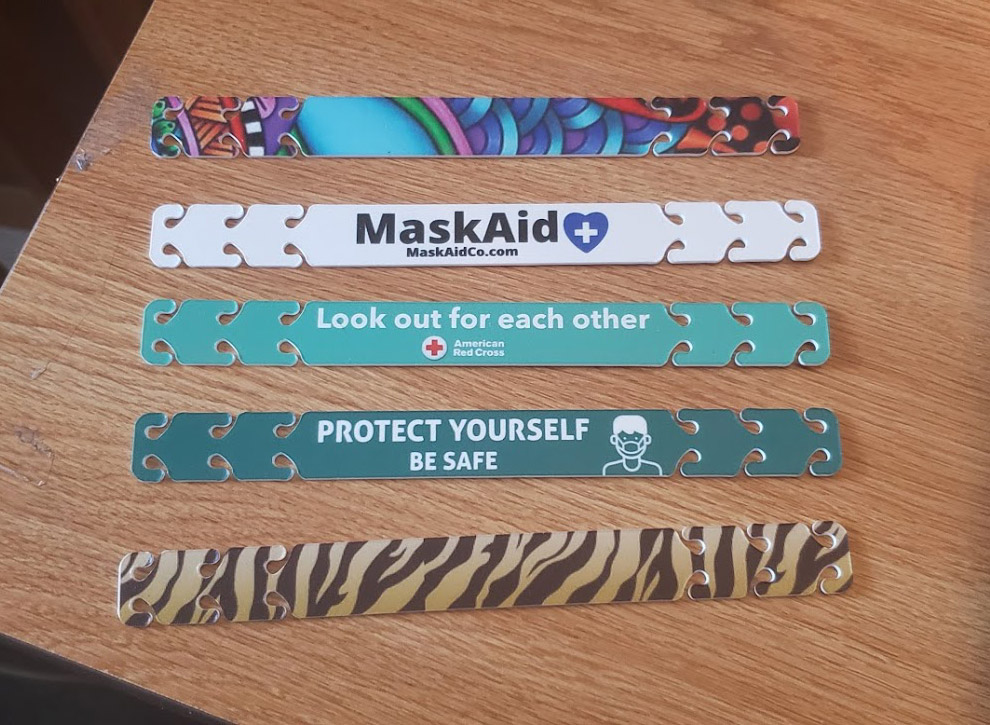 In bulk, we can sell these for for as little as $.75 each. Our pricing is significantly less than what you see online, partially because you are buying directly from the manufacturer and partly because we are producing all of our COVID response work at cost.
Ease of custom design
We have an in house design and prototyping staff. Once we understand customers' requirements, we can quickly come up with solid, cost effective solutions.
Because we have hundreds of local business and NGO clients in our community, we are a barometer as to the impact and the local response to COVID. While the financial challenges to our business are enormous, we are definitely not sitting this fight out.
A good friend reminded me that this is a marathon, not a sprint.
More photos of our work can be found here.
###
Tagged COVID-19