Monterey Tech Ecosystem
Monterey Bay Aquarium to reopen for visitors in July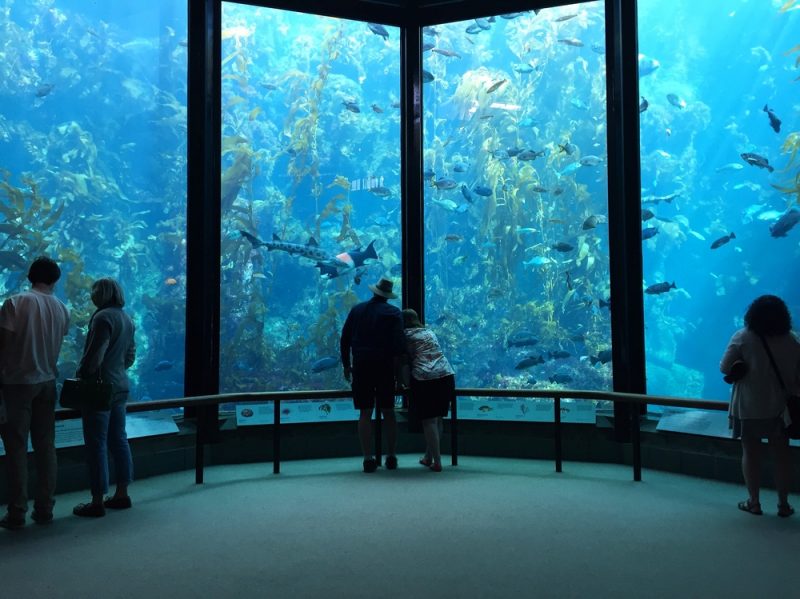 (Contributed)
June 23, 2020 — Monterey, CA
Monterey Bay Aquarium will reopen in mid-July, ending an unprecedented four-month closure.
Beginning July 9, the Aquarium will welcome back members and donors and will give these supporters four days to visit before opening to the public on Monday, July 13. As an organization built on community support, the closure has been especially difficult and as the Aquarium opens, it is prioritizing the safety of staff, volunteers, visitors and its living collection. The Aquarium team is following a reopening plan that provides a high-quality experience for all guests, aligns with California's Resilience Roadmap and is approved by the Monterey County Health Department.
Online-only ticket sales will begin on Wednesday, July 1 at the Monterey Bay Aquarium website.
"We've missed welcoming our visitors to the Aquarium and have been looking forward to this day," said Executive Director Julie Packard. "Social media and our online experiences have allowed us to stay connected with people virtually, but there is no substitute for connecting with favorite exhibits and animals in real life. People can expect an outstanding experience that puts the well-being of our guests, staff and volunteers front and center."
That means there will be changes to the visitor experience to meet the challenges posed by COVID-19. When it reopens, the Aquarium will limit the number of visitors in the building at any one time; require face coverings for guests, staff and volunteers ages three and older; follow appropriate physical distancing practices; conduct frequent cleaning throughout the building, especially of high-touch areas; and use one-way paths through exhibit galleries to provide the best opportunity for people to enjoy the Aquarium and physically distance throughout their visit.
Here are details on the changes to note before visiting the Aquarium:
Online ticket purchasing and timed ticketing
Starting on July 1, tickets will be available for purchase online only. There will be no in-person ticket sales for walk-up customers. Tickets can be purchased on mobile devices, but to guarantee admittance, they should be purchased in advance. Attendance capacity will be limited, with timed entry for all guests.
Aquarium members can reserve their own timed-entry visits in advance, using the Member section of the website. All guests will be required to confirm a public health screening statement before entering the Aquarium.
Hours of operation
From July 9-12, the Aquarium will be open to members only from 10 a.m. to 5 p.m. as a special thank you for their ongoing support, especially during this difficult closure period. Memberships can be purchased through the website: MontereyBayAquarium.org/members.
Beginning on July 13, the Aquarium will be open daily from 10 a.m. to 5 p.m. with entry time slots available every half hour until 3:30 p.m. Initially, the 10 a.m. time slot will be for members only, with public tickets available starting at 10:30 a.m.
Required face coverings and physical distancing
In compliance with state and county public health guidelines, all staff and volunteers, and guests – ages three and older –  will be required to wear face coverings while inside the Aquarium, unless doing so poses a health risk because of an underlying condition. Children two years of age or younger are not required to wear a face covering. Staff, volunteers and guests will also be required to practice appropriate physical distancing, remaining six feet apart from other parties.
Visitor experience
To promote physical distancing, guests will be directed through most of the galleries on one-way paths, which they can repeat as often as they like during their visit. One path takes visitors through the Ocean's Edge wing, home to the iconic Kelp Forest exhibit; the other goes through the Open Sea wing, with the Jellies gallery and million-gallon Open Sea exhibit. Most of the exhibits and galleries will be open, though some areas that do not allow for physical distancing will be closed, including the auditorium, children's play areas, the Aquarium's dine-in restaurant and some interpretive stations. Limited food and beverage will be available to guests at the Aquarium via online ordering during their visit. Dining areas will be reconfigured to maintain physical distancing.
Complete details about Monterey Bay Aquarium reopening and the new operational procedures are available now at MontereyBayAquarium.org.
###
Tagged Marine Tech, Monterey, Monterey Bay Aquarium