Featured
Q&A: Program Director Gerry Barañano on How Tech Futures Group Can Help Small Tech Companies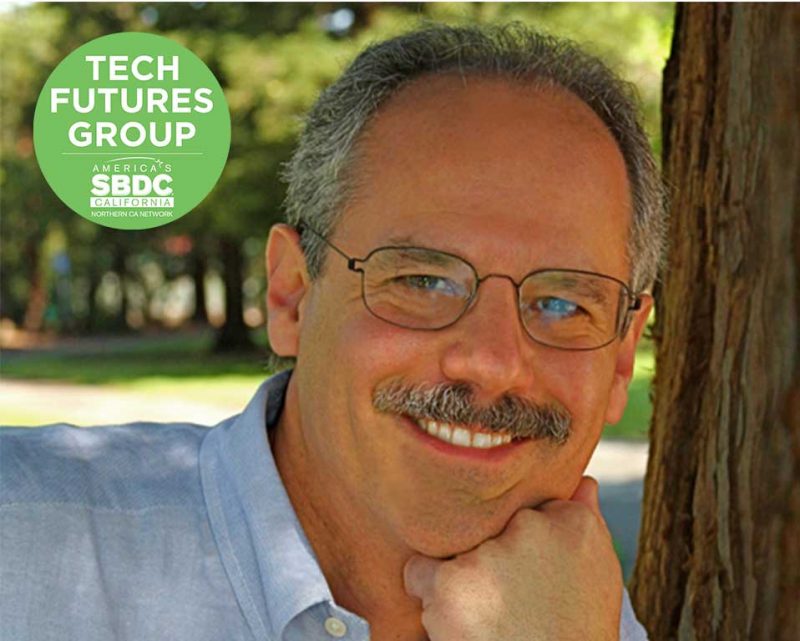 Sara Isenberg
Founder, Publisher, Editor-in-Chief
Santa Cruz Tech Beat
June 18, 2020 — Santa Cruz, CA
SBDC's tech-focused program helps technology companies raise money through equity, grants, and loans
Santa Cruz Tech Beat has published a variety of articles featuring the Santa Cruz Small Business Development Center (SBDC) and their contributions to the tech community. Tech Futures Group (TFG) is one of three initiatives designed to extend the reach of the Northern California SBDCs to niche entrepreneurial groups, in this case tech startups. We interviewed TFG Program Director Gerry Barañano to learn more.
SCTB: What is Tech Futures Group?
Gerry Barañano: Tech Futures Group (TFG) is a program of the Northern California Small Business Development Centers (SBDC) designed to extend the reach of the SBDC to small entrepreneurial technology companies.
TFG's mission is to help technology companies raise money through equity, grants, and loans; and subsequently to increase jobs and increase revenue.
TFG has been remarkably successful in meeting the capital infusion goal, the key performance indicator required by our funders. Since its founding in 2012, TFG has actively assisted clients raise over $300 million in equity, grants, and a few loans.
All TFG services are free to our clients due to funding from the Small Business Administration and State of California.
The lead advisor called the entrepreneur-in-residence (EIR) who are experienced entrepreneurs with a successful exit or two. The EIR provides CEO-to-CEO level advice and guides the entrepreneurs to address critical areas for success;
Intellectual property attorney covers all IP issues including patents, copyrights, trademarks, trade secrets, and so on.
Financial experts will create a financial model with multi-year projections based on the client's specific business model and projections;
Government grants experts, specifically Small Business Innovation Research (SBIR) grants;
Advisors experienced in raising equity through VCs, corporate VCs, angel groups, and individual angels;
Advisors experience in launching both B2B and B2C technologies into a target market, specific go-to-market strategies and tactics, and how to commercialize innovative technologies into established corporations and markets.
All TFG advisors are active in their field of expertise and/or active investors. In this way, TFG advisors remain current in their areas, knowledgeable of new developments and changes.
TFG believes tech startups are best served with an integrated advisory service model led by a very experienced serial entrepreneur who knows what a company needs and when they need it.
SCTB: How does TFG connect to the three counties of the Central Coast?
Gerry Barañano: TFG supports clients located in the geographic service areas of Northern California SBDC network's eighteen SBDC centers. This spans the geographic area from Santa Cruz county in the south to the Oregon border on the north and Nevada border on the east. This is TFG's core geographic region. On rare occasions, TFG will accept California clients located outside its core geographic region.
SCTB: What services does TFG offer?
Gerry Barañano: TFG offers one-on-one advising to help tech companies start and grow. TFG focuses on helping its clients prepare for raising equity capital and obtain grants. In order for equity investors to invest in an tech company, they require the tech entrepreneur:
Prove the technological invention is viable and has potential. The SBIR program provides technical validation. Federal government technology experts study and analyze the technical solutions offered by SBIR applicants and choose the best. Winning an SBIR grant signals to investors the entrepreneur's technology solution is real and has potential; thus reducing technical risk for equity investors.
Protected intellectual property;
A sophisticated financial model that shows how the startup will make money;
Market traction through initial sales and revenue to their target market;
A compelling investor pitch or presentation.
TFG has expert advisors in all these areas.
SCTB: How can businesses apply to TFG and receive these services?
Gerry Barañano: Prospective TFG clients must apply for TFG services on our website: https://www.techfuturesgroup.org/
The application requires thoughtful response to its 20 questions, a process that can take 30-45 minutes. TFG receives 3-4 times as many applications as we can accept.
SCTB: What is the application process?
Gerry Barañano: TFG staff carefully reviews applications weekly and forwards accepted applications to its lead advisors, the EIRs for final review and approval. TFG staff and the EIRs look for applicants that have an interesting technology, a good team (or at least a good founder), a good understanding of product market fit, and ideally early sales. Once the EIR has agreed to be the lead advisor for that new client, they meet with the client to understand their needs better and to develop a plan of action. Because all TFG EIRs are active investors and very busy, the entire approval process typically takes about two weeks.
SCTB: Who is eligible to obtain TFG services?
Gerry Barañano: TFG is authorized by its funders to accept companies at all stages of development. The earliest stage are typically a single researcher with an interesting technology but no team, no corporate structure, little understanding of product market fit. The latest stage are established companies that have been in business for many years with a stable and profitable revenue stream. The sweet spot is an applicant with a small team (not a single individual), strong technology, a beta product or better, and a good understanding of product market fit. Companies in the TFG sweet spot are in a good position to raise capital and succeed in the market.
SCTB: Who are some of our local / regional advisors?
Gerry Barañano: TFG advisors are located throughout our geographic service area. TFG also works closely with the SBDC centers. In Santa Cruz county, TFG has its intellectual property advisor. In addition, TFG advisors work collegially with advisors from the Santa Cruz SBDC to serve tech entrepreneurs and businesses in the county.
SCTB: Any local, Santa Cruz success stories that can be shared?
Scoot Science is the most notable. TFG assisted them in raising $1.5 million.
###
Tagged Gerry Baranano, SBDC, Tech Futures Group