Companies
Coronavirus: Joby's Marina 'mega tent' poised to serve as alternate care site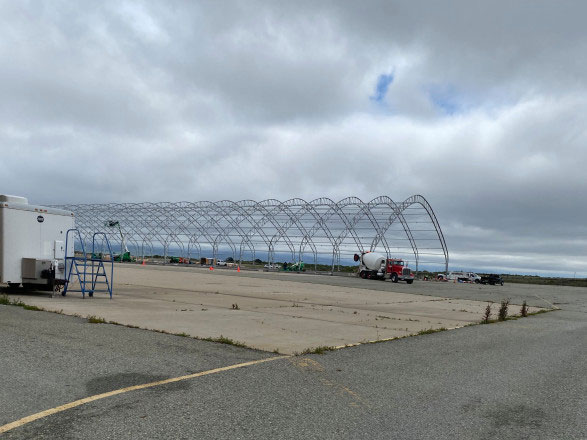 By Jim Johnson
Monterey Herald
April 22, 2020 — Marina, CA
(Photo above: Joby Aviation's "mega tent", currently under construction. Credit: Tom Wright – Monterey Herald)
Structure could be ready in less than three weeks, house hundreds
Joby Aviation CEO JoeBen Bevirt recognized the global threat from the novel coronavirus months ago due to the company's operations in China and raised the alarm, a top company official told the Monterey County Board of Supervisors earlier this week. Now, the Santa Cruz-based electric aircraft developer and manufacturer is poised to offer Monterey County the use of its "mega tent" already under construction at the Marina Airport for use as an alternate care site for coronavirus patients if the outbreak exceeds local hospitals' capacity.
Joby special projects manager Dan Coughlin told the Board of Supervisors on Tuesday that his boss "saw (the disease) coming and raised a red flag and concerns early on."
Coughlin told the board that company officials subsequently learned the county was conducting a search for potential alternate care sites and realized a week ago that the company's 55,000-square-foot fabric tent designed for manufacturing electric vertical take-off and landing (E-VTOL) aircraft intended for air taxi service could be made available for the county's use. He said company officials met with a county contingent at the site on Saturday and had an agreement shortly thereafter.
Pending successful negotiations between the county, Joby and the city of Marina, Coughlin said the facility could be operational and ready for use in less than three weeks. He said work on the facility had already started on Sunday. The county board on Tuesday authorized County Administrative Officer Charles McKee to enter negotiations on contracts for the site access and usage.
Continue reading here: https://www.montereyherald.com/2020/04/16/coronavirus-jobys-marina-mega-tent-poised-to-serve-as-alternate-care-site/
###
Tagged covid, Joby Aviation