Companies
SellHound Takes on SXSW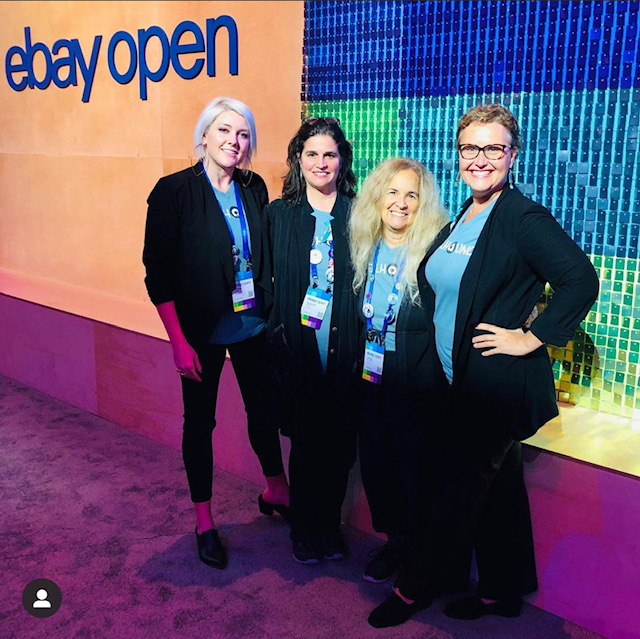 (Contributed)
January 30, 2020 — Santa Cruz, CA
(Photo above: The SellHound team at eBay Open in Las Vegas. From left: Alicia Earle, Suzanne Wouk, Laura Greenfield, Deborah Lindsay. Contributed)
SellHound was recently selected as just one of eight companies representing the San Francisco Bay Area to pitch at the legendary South by Southwest (SXSW) technology and media festival in March 2020.
SellHound is a mission-driven startup focused on building technology to extend the life cycle of stuff and enhance the circular economy.
The SellHound App contains two services, one is the world's first price comparison search engine for used items across multiple marketplaces, dubbed "Fetch." The second is a virtual listing assistant where you take photos of an item you want to sell and SellHound creates a highly optimized listing for your item, including price & shipping, and automatically posts it for you to the marketplace of your choice.
They are currently focusing on fashion and eBay, but planning to add other categories and marketplaces soon.
"We are thrilled to have been invited to SXSW and get a chance to share the stage with some amazing innovators from all over the world," says Suzanne Wouk, SellHound CEO.
The 9-day Austin-based tech, music, media, and film festival hosts a pitch competition each year that showcases cutting edge startup companies from across the world. Thousands of startups apply and due to the increasing number of applicants, SXSW is becoming more and more selective. Only 80 companies were chosen to participate this year. SellHound is one of eight San Francisco Bay Area companies, and the only bay area company participating in the Consumer Technology category.
South by Southwest's pitch competition is scheduled for March 14 – 15, 2020 in Austin, Texas.
For a list of companies that are pitching, go to https://www.sxsw.com/awards/sxsw-pitch/#alternates
###
Tagged SellHound