Featured
Baskin School of Engineering launches "Good Engineering" website to highlight achievements of engineering faculty, alumni, and students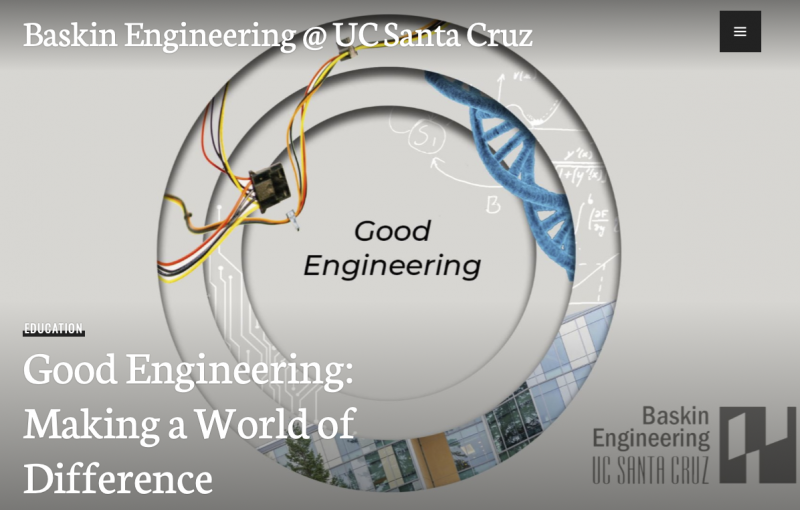 By James McGirk
Baskin School of Engineering, UC Santa Cruz
November 21, 2019 — Santa Cruz, CA
Baskin Engineering launches new mini website: Good Engineering: Making a World of Difference
Each year the Baskin School of Engineering graduates close to a thousand engineering students. The holistic education we provide means that our graduates are more than just good engineers. They're problem-solvers, eager and able to seek collaborative solutions to emerging opportunities and challenges. In addition to producing good engineers, we also produce research and innovations with tremendous impact that reaches far beyond the Monterey Peninsula. At the Jack Baskin School of Engineering, we are creating the future, and we think it will be one to look forward to.
This series of articles will highlight the achievements of UC Santa Cruz engineering faculty, alumni, and student researchers whose work best epitomizes our university's shared values of high-impact research with an uncommon commitment to teaching, social responsibility, and community.
We're calling it Good Engineering: Making a World of Difference.
Our series begins with Professor David T. Lee's Causeway, a platform that allows online education to provide hands-on experience. Next, professors Lise Getoor and Abel Rodriguez define what responsible data science means, a field that is fast-becoming one of the most important today. Professors Abhradeep Guha Thakurta and Yang Liu discuss differential privacy and programming fairness into algorithms. Following this, professor Camilla Forsberg describes her work with blood stem cells, and the importance of an oft-overlooked part of becoming a scientist: the postdoctoral position. Finally, Teaching Professor Narges Norouzi describes how she's using machine learning to find potentially life-saving patterns in medical data.
These stories are only the beginning. Each month we will post new stories about Good Engineering. We hope you'll enjoy them and share them far and wide.
###