Companies
Poly celebrates its role in Apollo 11's launch to the moon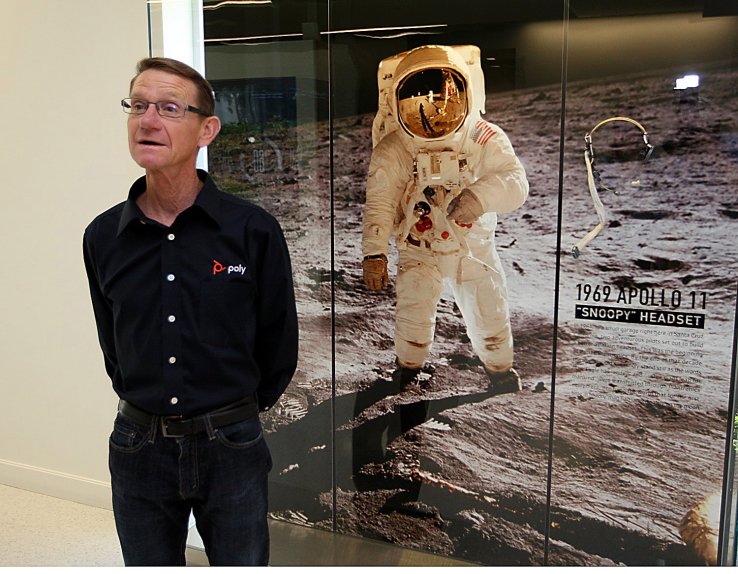 By Elaine Ingalls
Santa Cruz Sentinel
July 16, 2019 — Santa Cruz, CA
(Photo above: Mike Erbe, senior director of special projects at Poly, talks about Plantronics' Snoopy headset role in the 1969 Apollo mission. Credit: Dan Coyro — Santa Cruz Sentinel)
Today marks the 50th anniversary of the launch of Apollo 11, the mission that brought man to the moon and an anniversary that one particular Santa Cruz-based company is celebrating.
Communications technology company Poly, rebranded from Plantronics earlier this year, made the astronauts' headsets for this space mission and many others.
"The idea was clever, and the product turned out to be revolutionary," said Mike Erbe, senior director of special projects at Poly.
Plantronics was founded in 1961 by the late Courtney Graham and Keith Larkin, two pilots who wanted to create lighter-weight headsets for pilots. While Plantronics was sending headsets to the Federal Aviation Administration for evaluation in 1962, NASA was looking for a lightweight headset that could connect to an astronaut's emergency radio, which was created after astronaut Gus Grisson lost his communication system during the Mercury-Redstone 4 mission.
These headsets became the Model MS50 and StarSet. The MS50 was made in just 11 days and was designed to fit inside the "Snoopy Caps" or communications carriers the astronauts wore under their helmets. Plantronics' headsets were first used in space in October 1962 on the Mercury-Atlas 8 mission with American aviator Wally Shirra, according to Erbe.
Continue reading here: https://www.santacruzsentinel.com/2019/07/15/poly-celebrates-its-role-in-apollo-11s-launch-to-the-moon/
###
Tagged Plantronics, Poly