Companies
Darrin Caddes on Creativity, Soundscaping, and Why He Prefers Santa Cruz over Silicon Valley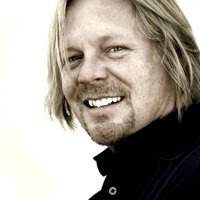 By Molly (Lautamo) Ressler
January 23, 2018 — Santa Cruz, CA
(Photo above: Darrin Caddes, VP of Corporate Design at Plantronics. Source: LinkedIn.)
Originally published at http://santacruzworks.com/news/darrin-caddes-creativity-soundscaping-and-why-he-prefers-santa-cruz-over-silicon-valley
Darrin Caddes, VP of Corporate Design at Plantronics, believes that the only bad ideas are those that aren't expressed.
<skip>
Using sound to optimize your personal space
As work environments become denser due to factors including the cost of rising real estate and general business expenses, open-plan offices are becoming the norm. "You have a hope of increased collaboration and communication," says Darrin, "but noise and distraction are a huge issue."
Darrin explains that white noise is commonly used as a solution, but for many of us the constant static can deplete our energy and decrease our ability to focus. Instead, Plantronics has created a soothing combination of biophilia-inspired sounds that can mimic the burbling flow of a waterfall, waves crashing on the sand, or birdsong in a mountain forest. A visual element, such as a physical waterfall sculpture, a projected image of redwood trees, or an ambient light show, accompanies the soundscape.
This project, called Habitat, has the potential to radically transform our work environments. It's an intelligent soundscaping system with all the features described above that also constantly adjusts depending on the sound levels of the space. They're also exploring how to positively affect our mood through sound.
Continue reading article here: http://santacruzworks.com/news/darrin-caddes-creativity-soundscaping-and-why-he-prefers-santa-cruz-over-silicon-valley
###
Tagged Plantronics