Companies
Western Growers Leadership in AgTech Lauded During Forbes Summit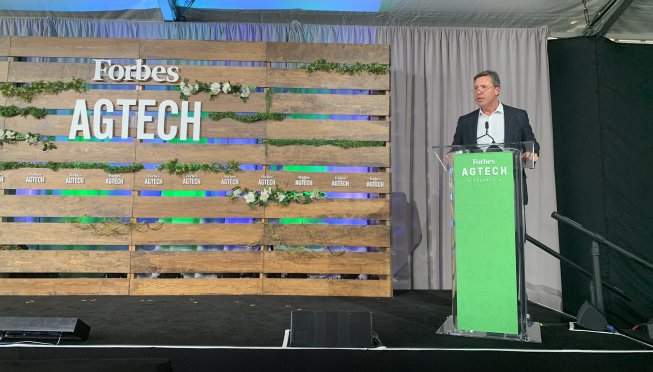 (Source: Western Growers Blog)
July 3, 2019 — Salinas, CA
(Photo above: Western Growers' Executive Vice President Dave Puglia speaks at the Forbes AgTech Summit held recently in Salinas. Source: Western Growers website)
Western Growers' leadership in expediting the development of agricultural technologies was widely recognized last week during the fifth annual Forbes AgTech Summit. In addition to sponsoring the summit, WG hosted a star-studded panel that discussed how technologies are being used to advance food safety, hosted the agtech startup Innovation Showcase and provided a keynote address that inspired a spirit of collaboration.
"It's not sufficient to continue to passively wait for solutions to come to the industry," said Dave Puglia, WG's executive vice president, during his keynote address at the summit. "It's not sufficient to work alone or in an uncoordinated fashion. It's not sufficient to work on small parts of the problem and it is problematic to compete for a finite number of investors, sponsors, and media attention to drive that process. It's vital for us to accelerate solutions and change and we can only do that together."
On day two of the conference, WG's Senior  Vice President, Strategic Planning, Science & Technology Hank Giclas led the "Smarter Technology, Safer Food" session, which left the crowd with new ideas on how to utilize technologies to advance and improve food safety to protect public health. The workshop was moderated by Frank Yiannas, deputy commissioner for Food Policy and Response at the U.S. Food and Drug Administration, and the panelists included VicSmith, president/CEO at JVSmith Companies; Drew McDonald, vice president of quality & food safety at Taylor Fresh Foods; Minos Athanassiadis, business area director at Trimble/HarvestMark; and Diane Wetherington, CEO at iFoodDecisionSciences.
Some key takeaways from the session include the following:
The future of food safety systems needs to be data driven.
The current system is slow to react and error prone, wastes resources and has hampered visibility across the supply chain.
Digitizing information in the food system is about helping to solve business challenges and public health problems.
Continue reading here: https://www.wga.com/blog/wg-leadership-agtech-lauded-during-forbes-summit
###
Tagged agtech, Forbes, Salinas, Western Growers