Companies
It was no accident that Netflix started in Santa Cruz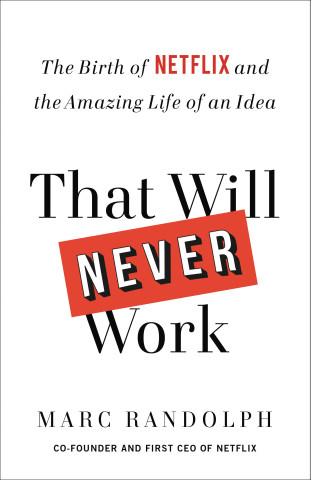 By Sara Isenberg
Founder, Publisher, Editor-in-Chief, Santa Cruz Tech Beat
June 25, 2019 — Santa Cruz, CA
Marc Randolph's book That Will Never Work — The Birth of Netflix and the Amazing Life of an Idea is due out in September
You may think of Netflix as a Los Gatos company but if you scratch the surface, there's a solid Santa Cruz/Scotts Valley history.
First, both Chairman/CEO Reed Hastings and Cofounder Marc Randolph lived in Santa Cruz during the formative years of Netflix and still do.
Next, in this 2014 article, Netflix's first home offered room service (1/2/14), the author writes about the company's history in Scotts Valley:
The Scotts Valley Best Western offers reasonable rates and complimentary breakfasts. It also boasts this unique selling point: It was the first home of Netflix Inc.

The hotel at 6020 Scotts Valley Drive is where the streaming-media service rented its first "office space," in the form of a conference room. Netflix paid by the week.

Call it Netflix's version of Silicon Valley's humble-origins myth. It might not be the Hewlett Packard garage in Palo Alto (now a California Historical Landmark), but it fits the bill well enough: Today, Netflix is the largest corporate tenant (and employer) in Los Gatos, with about 250,000 square feet there and 1,000 workers packed into multiple buildings.

It was no accident that Neflix started in Santa Cruz. Co-founder Marc Randolph had originally moved to Scotts Valley to work for Borland, but later commuted to work in Silicon Valley. "So when I was deciding to start my own business, I was completely committed to actually putting in the same town I lived in for a change," Randolph said in an email.

Netflix soon checked out of the Best Western. In 1997, Netflix moved to the Scotts Valley Corporate Center, a proper office park. Randolph lived across the street. Continue reading…
Fast forward to 2019, Marc Randolph's book, That Will Never Work: The Birth of Netflix and the Amazing Life of an Idea, is set to come out in September (2019).
From the publisher's book teaser:
In the tradition of Phil Knight's Shoe Dog comes the incredible untold story of how Netflix went from concept to company – all revealed by co-founder and first CEO Marc Randolph.
Once upon a time, brick-and-mortar video stores were king. Late fees were ubiquitous, video-streaming unheard of, and widespread DVD adoption seemed about as imminent as flying cars. Indeed, these were the widely accepted laws of the land in 1997, when Marc Randolph had an idea. It was a simple thought – leveraging the internet to rent movies – and was just one of many more and far worse proposals, like personalized baseball bats and a shampoo delivery service, that Randolph would pitch to his business partner, Reed Hastings, on their commute to work each morning.

But Hastings was intrigued, and the pair – with Hastings as the primary investor and Randolph as the CEO – founded a company. Now with over 150 million subscribers, Netflix's triumph feels inevitable, but the twenty first century's most disruptive start up began with few believers and calamity at every turn. From having to pitch his own mother on being an early investor, to the motel conference room that served as a first office, to server crashes on launch day, to the now-infamous meeting when Netflix brass pitched Blockbuster to acquire them, Marc Randolph's transformational journey exemplifies how anyone with grit, gut instincts and determination can change the world – even with an idea that many think will never work.
Here's Randolph's bio from the publisher's website:
Marc Randolph is the co-founder of Netflix, serving as their founding CEO, the executive producer of their website, and a member of their board of directors until his retirement in 2004. Although best known for starting Netflix, Marc's career as Silicon Valley entrepreneur spans more than four decades. He's founded or co-founded more than half a dozen other successful start-ups, mentored rising entrepreneurs, and invested in numerous successful tech ventures. He speaks frequently to companies and at industry events nationally and internationally. He lives in Santa Cruz, California.
Stay tuned for the book. Meanwhile, Randolph is on Looker's Board of Directors.
###
Tagged Looker, Marc Randolph, Netflix