Companies
Recap: MBEP's 2019 Regional Economic Summit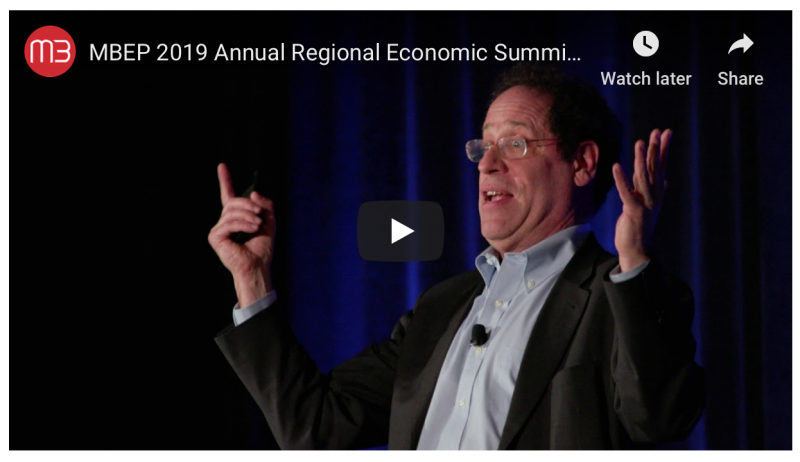 (Source: MBEP website)
May 21, 2019 — Monterey, CA
MBEP has provided a comprehensive recap of its recent 5th Annual Regional Economic Summit
"Bringing its multi-sectoral network of members and partners together, MBEP hosted its 5th Annual Regional Economic Summit on May 2, 2019, at the newly renovated Monterey Conference Center. 350+ leaders from across the tri-county region and beyond came together to learn about important economic trends and compelling ways to grow and "recession-proof" their organizations."
Watch: Summit Highlights 2019
Highlights from Keynote Speaker Bruce Katz
Arriving in the Monterey Bay region to deliver the keynote address, Bruce Katz was struck by the overwhelming beauty of the region. Yet beneath that lovely surface, he says, there's a huge amount of transition, as the region arrives at a critical moment.
"In some ways, this feels like a paradise, and then you realize all the challenges that you're facing because of where you're located and because of the kind of vast economic restructuring that's going on as you move from one kind of economy to another kind of economy."
Katz, a Brookings Institution scholar, senior advisor to global leaders and author of "The New Localism," described this as a critical moment for the region "to take responsibility for its future … really driving your future from the bottom up."
Watch: Bruce Katz Keynote presentation
Click here to review the presentation slides.
For more video highlights and information from the event, go to https://mbep.biz/2019-economic-summit-recap/
###