Companies
Rebrand pays homage to Plantronics history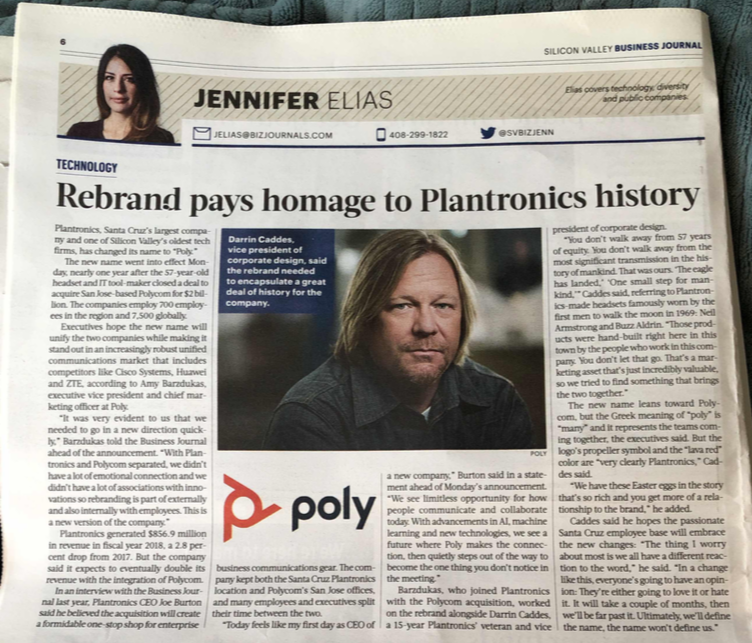 By Jennifer Elias
Silicon Valley Business Journal
April 16, 2019 — Santa Cruz, CA
(Photo credit: Sara Isenberg)
Ultimately, we'll define the name, the name won't define us.
In case you missed it in print, here are some quotes from Darrin Caddes, VP Corporate Design at Poly, from SVBJ's article, "Rebrand pays homage to Plantronics history."
"You don't walk away from 57 years of equity," Caddes said, referring to his thought process of the name change. "You don't walk away from the most significant transmission in the history of mankind. That was ours. 'The eagle has landed,' 'One small step for mankind,' Those products were hand-built right here in this town by the people who work in this company. You don't let that go. That's a marketing asset that's just incredibly valuable so we tried to find something that brings the two together."
"The new name leans toward Polycom, but the Greek meaning of "poly" is "many" and it represents the teams coming together, the executives said. But the logo's propeller symbol and the "lava red" color are "very clearly Plantronics," Caddes said.
"We have these Easter eggs in the story that's so rich and you get more of a relationship to the brand," he added.
"The thing I worry about most is we all have a different reaction to the word," he said. "In a change like this, everyone's gonna have an opinion: they're either going to love it or hate it. It will take a couple of months, then we'll be far past it. Ultimately, we'll define the name, the name won't define us."
###
Tagged Plantronics, Poly