Companies
Smile Train partners with UCSC researchers on speech therapy game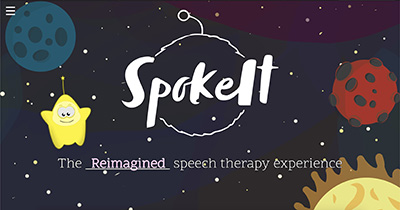 By Tim Stephens
UC Santa Cruz
March 14, 2019 — Santa Cruz, CA
Designed to support speech therapy for children after reconstructive surgery for cleft lip and cleft palate, SpokeIt uses game play to make speech therapy fun
Researchers at UC Santa Cruz have developed a speech therapy game for children with cleft lip or cleft palate and are now partnering with the international charity Smile Train to make the game, called SpokeIt, a resource for affected children worldwide.
Globally, one in every 700 babies is born with a cleft, one of the most common birth defects. Speech therapy is an important part of follow-up care after reconstructive surgery for cleft lip and palate. The availability of trained speech therapists is limited, however, especially in developing countries. SpokeIt has the potential to greatly improve access to this essential therapy.
"We are really invested in making sure this doesn't just sit on the shelf, but is made available to people who can benefit from it. That's why we are so excited to be partnering with Smile Train," said Sri Kurniawan, professor of computational media in the Baskin School of Engineering at UC Santa Cruz.
Smile Train supports free cleft surgery and comprehensive cleft care for children in over 85 countries around the world through partnerships with local hospitals. Their global network of experts in cleft care will help assess SpokeIt and improve its effectiveness, especially as the UCSC team translates the game into additional languages. Smile Train also has a network that can get the game into the hands of those who need it.
"There is tremendous need for follow-up care after cleft surgery, so we are thrilled about working together on this project," said Pamela Sheeran, vice president of comprehensive cleft care at Smile Train. "SpokeIt can help children to improve their speech after cleft palate surgery by making speech therapy part of a fun activity."
"The work Smile Train is doing with children around the world is truly inspiring," said Alexander Wolf, dean of the Baskin School of Engineering. "We're honored to partner with them and see first hand how the application of engineering concepts can help improve lives."
Sharing expertise and experience
UCSC graduate student Jared Duval has been leading the development of SpokeIt for the past three years, building on an initial prototype developed by a previous graduate student. Sheeran contacted him last year after learning about the project and offered to share Smile Train's expertise and experience with cleft palate speech therapy.
The feedback from Smile Train's experts has already led to new features that Duval is currently implementing, including making SpokeIt available for both iOS and Android devices. The next version will also support game controllers, which will enable a therapist or parent to help a child progress through the game.
"You don't want them to get discouraged, so a game controller makes it easy for a facilitator to provide help," Duval said.
Duval is also working to make SpokeIt available in languages other than English. Speech recognition software is available for many different languages, but adapting the speech therapy game to a new language requires updating the target words and ensuring the content is culturally appropriate, among other things. For this, Smile Train's extensive network of speech therapists in countries around the world will provide crucial expertise.
"I'm excited to see this research move out of the lab and start making a real impact globally on children's lives," Duval said.
The game play in SpokeIt revolves around a talking star named Nova, who is powered by speech. Nova's adventures with characters called Migs play out in a series of mini-games in which the player provides the "speech magic" and thereby practices different aspects of speech.
The initial idea for the speech therapy game was suggested to Kurniawan by Dr. Travis Tollefson, a surgeon at UC Davis Children's Hospital who specializes in cleft and other facial deformities. After producing a proof-of-concept prototype, Kurniawan won funding from the National Science Foundation to continue developing the game in collaboration with Dr. Tollefson's team. His patients were the first "beta testers" for SpokeIt.
Now, the researchers are focusing on implementing new features, adding new languages, and developing the game into a downloadable app that they can make available online. "Our vision is to eventually make the game available in app stores, where it will automatically download with the appropriate language based on location," Duval said.
Smile Train has been working for years to expand access to cleft palate speech therapy for all children in need, Sheeran said. These efforts include training programs for speech therapists and community health workers, and financial assistance to cover the costs of therapy.
"In many communities where Smile Train has programs there are no, or very few, speech therapists trained specifically in cleft palate speech therapy," Sheeran said. "Most children born with clefts do not have access to this essential service."
To put the scale of need into perspective, she said, it is estimated that more than 200,000 babies are born each year with a cleft, and many born in previous years are still waiting for care. SpokeIt could go a long way toward meeting this need by using game technology to deliver speech therapy in a way that is both cost-effective and easy to scale up to serve large numbers of users.
More information about SpokeIt is available online at SpokeItTheGame.com. For more information about cleft lip and cleft palate, visit smiletrain.org.
###