Events
Ceremony honors inaugural holder of Colligan Presidential Chair in Pediatric Genomics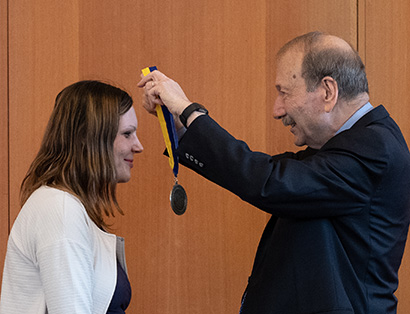 By Tim Stephens
UC Santa Cruz
February 26, 2019 — Santa Cruz, CA
(Photo above: Chancellor George Blumenthal honored Olena Vaske as the inaugural holder of the the Colligan Presidential Chair in Pediatric Genomics. Credit: Steve Kurtz)
The initial focus of the chair is to advance efforts to use genomic data to defeat childhood cancer.
Olena Morozova Vaske, assistant professor of molecular, cell, and developmental biology at UC Santa Cruz, was honored as the inaugural holder of the Colligan Presidential Chair in Pediatric Genomics in an investiture ceremony on Tuesday, February 19, at the University Center.
The chair was established in 2016 with a gift from John "Bud" and Rebecca Colligan and matching funds from the UC Regents. The initial focus of the chair is to advance efforts to use genomic data to defeat childhood cancer.
Vaske cofounded the Treehouse Childhood Cancer Initiative when she was a postdoctoral researcher working with David Haussler, professor of biomolecular engineering and director of the UC Santa Cruz Genomics Institute. She maintained her involvement in Treehouse during a postdoctoral fellowship in clinical molecular genetics at UCSF, then returned to UC Santa Cruz in the fall of 2018 to join the faculty of the Department of Molecular, Cell and Developmental (MCD) Biology.
The Colligan Chair will provide important support for Vaske's ongoing work with the Treehouse Childhood Cancer Initiative, which was established to analyze genomic data of children with cancer in the context of large datasets of both pediatric and adult cancers. This comparative analysis allows researchers to identify situations where an available drug could be effective for treating a particular patient's tumor. The Treehouse team works closely with clinical oncologists at several sites, including Lucile Packard Children's Hospital and UCSF Benioff Children's Hospital.
"I am very grateful to the campus and to the Colligans for believing in this initiative and supporting our efforts to advance the use of genomic analysis in pediatric cancer care," Vaske said.
In her new lab in the MCD Biology Department at UC Santa Cruz, Vaske will be studying the genes identified in the Treehouse analyses to better understand their roles in pediatric cancer. This "wet lab" research will complement the data analysis currently performed by the Treehouse team and may yield valuable new biological insights into pediatric cancer.
In addition, Vaske said she hopes to begin doing the genomic analysis of tumor samples from patients, which is currently done elsewhere, in her own lab.
"Ultimately we would like to develop our comparative genomic analysis into a clinical test that can be widely used," she said. "That will be a long process, however, and the Colligan Chair will provide critical support for the development of a clinical program here at UC Santa Cruz."
Bud and Rebecca Colligan are longtime supporters of the UC Santa Cruz Genomics Institute at the Baskin School of Engineering. Bud Colligan is co-chair of the Monterey Bay Economic Partnership and the founder and CEO of South Swell Ventures. Rebecca Colligan is an artist who had a successful career in photography and now works in mixed media and oil painting.
Paul Koch, dean of physical and biological sciences, noted that chairs that span disciplines or even departments are rare, but UC Santa Cruz has always fostered a healthy environment for research that crosses boundaries. The Colligans, he said, "recognized that genomics spans many disciplines and decided to endow a chair that could support faculty anywhere in the sciences or engineering, so long as the person is working to further our understanding of genomics in children. UC Santa Cruz is exactly the kind of place where one should expect such a wise investment."
Alexander Wolf, dean of the Baskin School of Engineering, also commended the Colligans "for their commitment to advancing much needed research in pediatric genomics, with an emphasis on the underlying problem rather than on a particular academic subject or department. The Colligan Presidential Chair is authentic recognition of the path-breaking research taking place at the intersection of UC Santa Cruz's Physical and Biological Sciences, the Genomics Institute, and the Baskin School of Engineering."
###
Tagged Bud Colligan, Genomics Institute, UC Santa Cruz