Featured
Partnership Bolsters Childhood Cancer Research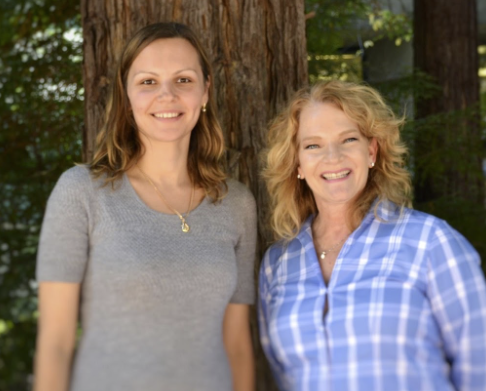 (Contributed)
October 16, 2018 — Santa Cruz, CA
(Photo above: Dr. Olena Morozova Vaske, left, and Dr. Elaine Mardis on the UC Santa Cruz campus during Dr. Mardis's September 2018 visit.)
Nationwide Children's Hospital and UCSC Treehouse Scientists Embark on Genomic Data Sharing
Last month, scientists from the UCSC-based Treehouse Childhood Cancer Initiative welcomed Dr. Elaine Mardis and other members of the Nationwide Children's Hospital's Institute for Genomic Medicine (IGM) to the UC Santa Cruz campus to bolster an ongoing collaboration focused on pediatric cancer genomics data sharing.
UC Santa Cruz Genomics Institute Scientific Director and Treehouse co-founder Dr. David Haussler said he is excited about the possibilities that could come out of the Treehouse-Nationwide Children's collaboration.
"We believe that genomic data sharing is fundamental to defeating pediatric cancer," Haussler said. "We are thrilled to be working with Nationwide Children's Hospital and Dr. Mardis. Her visit to UCSC was inspiring, and we look forward to ongoing research in partnership with Nationwide Children's world-class cancer care team, which we hope will help their clinicians identify potential treatments," he concluded.
According to Treehouse co-founder and UC Santa Cruz assistant professor of Molecular, Cell and Developmental Biology Dr. Olena Morozova Vaske, Treehouse analyzes each patient's tumor RNA sequences in the context of genomic data from thousands of pediatric and adult tumors. This approach may suggest targeted, less toxic and more effective treatments for patients whose cancer has not responded to standard therapies. "Having access to large RNA sequence datasets from multiple tumors is essential to our work. In collaboration with Nationwide Children's, we are implementing a federated model of data sharing where IGM runs our analysis program at their institution and shares outputs with Treehouse. Nationwide Children's leadership in genomic pediatric cancer research is vital to our learning, and improves not only our cohort of data but our analysis."
This federated approach to data analysis allows researchers to match genomic data from individual pediatric cancer patients with other patients in the Treehouse database, making it possible to confirm diagnoses and identify cancer treatments without having to share large raw data that contains identifiable information. Isabel Bjork, Director of Precision Medicine for the UCSC Genomics Institute, continued, " a program that preserves patient privacy while maximizing scientific collaboration."
According to Dr. Mardis, discovery-based cancer genomics research during the last decade has made significant progress uncovering the genomic underpinnings of pediatric cancers. "These findings have brought us to a point where we can apply them to understand each patient's cancer in the clinical setting. However, in so doing, we are reminded us there is strength in numbers, especially due to the fact that pediatric cancer is a rare disease." she opined. "This is why we are so keen to both utilize and share data with the Treehouse Project: it permits us to readily contextualize each patient in comparison to all other patients in the Treehouse database, and by adding patient data from IGM studies, we can further enable the efforts of other groups who are pursuing precision cancer medicine for pediatric patients."
During a lecture to about 80 UCSC staff, faculty and students, Dr. Mardis explained that many efforts are underway to address the clinical challenge of treating pediatric patients with relapsed or difficult-to-treat cancers using genomic technologies and advanced analytical approaches. She presented these challenges and identified current approaches to address them, sharing anecdotes about successes and failures, with a hopeful look to the future.
You can learn more about the Treehouse Childhood Cancer Initiative at the UC Santa Cruz Genomics Institute at treehousegenomics.ucsc.edu.
###
Tagged genomics, Genomics Institute, UC Santa Cruz