Companies
Monarch Media Wins eLearning Industry Award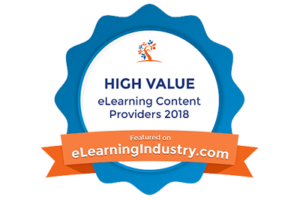 (Contributed)
October 16, 2018 — Santa Cruz, CA
Every year, eLearning Industry evaluates hundreds of eLearning content development companies to determine which ones stand out for their long-standing, enterprise-wide commitment to eLearning content development excellence. This year Monarch Media landed a spot on the list of Top 10 High Value eLearning Content Development Companies—corporations providing high-quality, innovating, and immersive eLearning solutions.
Criteria for judging included:
eLearning Content Development Quality
eLearning Expertise
eLearning Industry Innovation
Customer Reviews
eLearning Company's Economic Growth Potential
Customer Retention
Employee Turnover
Company's Social Responsibility
"Our team works hard every day to make a difference. We are honored to have earned the respect of our customers and peers in the industry," says Claire Schneeberger, Monarch Media founder.
Monarch Media helps people and organizations reach their full potential through inspired and innovative learning. They believe innovation is fueled by cross-disciplinary perspectives, which is why you'll find them working across education, government, nonprofit, and corporate sectors. Since 1997, the Monarch team has been known for their ability to combine creativity and common sense to arrive at end-to-end solutions that optimize learning outcomes, User Experience, and technology. Their partnerships are built upon personalized service, a flexible approach, reliable results, a stable team, and trust.
###
Tagged Monarch Media