Companies
My Internship Was Not What I Expected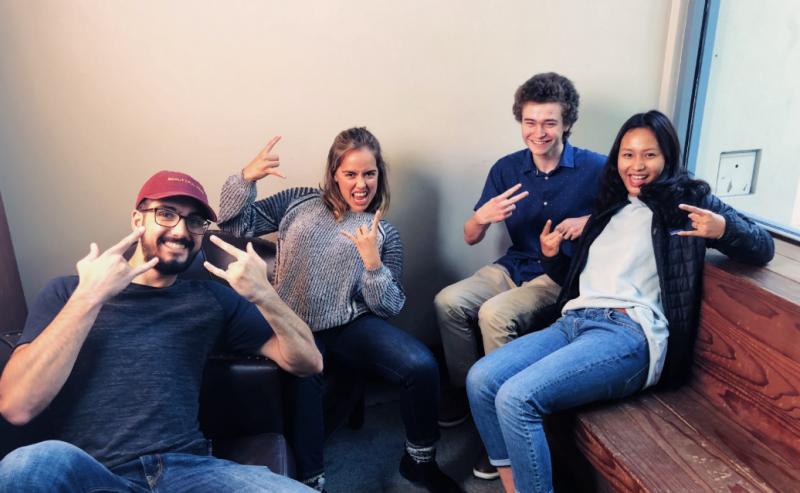 By Magdalena Ortiz Fischer
productOps Junior DevOps Engineer
October 9, 2018 — Santa Cruz, CA
(Photo: Ortiz Fischer, second from left, takes a break with the other productOps interns. Source: Medium)
I was afraid I would have to accept my first offer no matter how little it appealed to me and was concerned I wouldn't be able to develop my interests before obtaining a diploma.
Passionate about computer engineering after my first year at UC Santa Cruz, I wanted my internship to be a valuable one, even if it meant driving to San Jose between classes. Luckily, I didn't need to. I discovered productOps in downtown Santa Cruz, a few bus stops from campus.
I realized productOps was unique during my first interview. Rather than asking about my GPA, Dean, Julie, and Cameron wanted to know about my interest in volunteer-based travel, music performance, the Amazon Web Services (AWS) certification I had been working on, and how my personality might fit with the company. They asked me what I wanted to learn instead of telling me what my interests should be.
My first few weeks at productOps were overwhelming, spent learning about various AWS tools to work towards my Solutions Architect certification. Cloud computing has become the leading certification for IT professionals. Amazon's cloud is 10 times bigger than its next 14 competitors, combined. I was also pleased to find out that AWS-certified IT staff make nearly 30% more than the industry average for certified professionals.
Continue reading article here: https://medium.com/productops/my-internship-at-productops-was-not-what-i-expected-59fa948ecc56
###
Tagged productops