Companies
Digital NEST's New Plan to Link Watsonville, Silicon Valley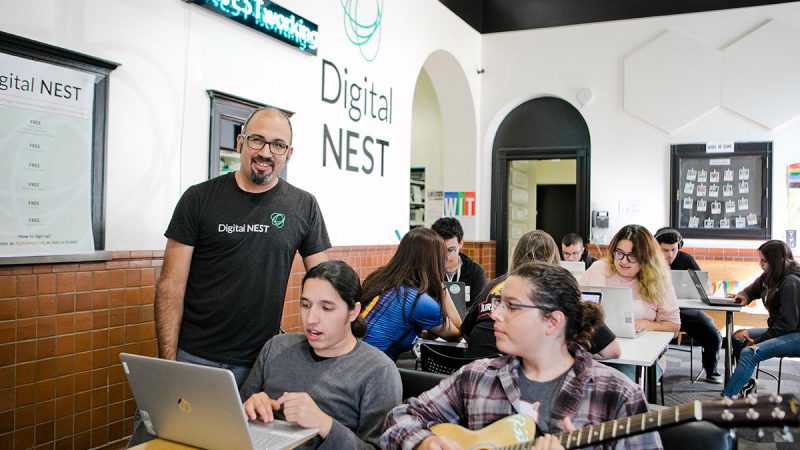 By Alisha Green
Good Times
September 11, 2018 — Watsonville, CA
(Photo above: Digital Nest founder Jacob Martinez, left, helps intern Josue Sanchez on a project while Remy Rodriguez plays guitar. Credit: Keana Parker)
Inaugural NEST Flight conference will promote hiring diversity and local talent
If Silicon Valley wants to keep arguing that its lack of diversity is due to a talent pipeline problem, it's going to have to answer to Jacob Martinez.
Martinez, founder and executive director of Watsonville-based nonprofit Digital NEST, is expanding on the vision of the NEST's free tech training program for youth with the launch of a new conference this fall bringing top local talent together with companies looking to hire.
He's gathering 300 high school seniors and college students from the region to attend workshops and panels. The students will also meet with recruiters on Oct. 13 in Watsonville at the inaugural NEST Flight conference. Martinez is looking to prove wrong any and all Silicon Valley tech executives who say they can't find a diverse pool of talent to draw from. And he has a similar message for local companies saying they can't find talented workers without looking to places like Stanford University or Cal Poly San Luis Obispo.
Continue reading article here: http://goodtimes.sc/santa-cruz-news/news/digital-nest-links-watsonville-silicon-valley/
###
Tagged Digital Nest, Jacob Martinez