Companies
Water Tech Founder Buoys Santa Cruz Startup Scene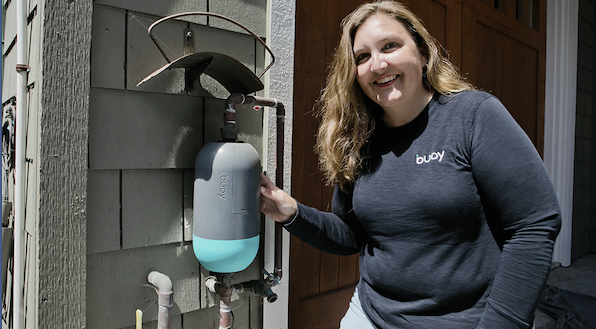 By Lauren Hepler
Good Times
July 25, 2018 — Santa Cruz, CA
(Photo above: Keri Waters is the CEO and Cofounder of Buoy, a startup that sells a smart water service to monitor usage and stop leaks. Source: Good Times)
Tired of Silicon Valley, Keri Waters made a career starting companies tailored to life in her adopted hometown
It was 2009 when Keri Waters decided she couldn't do it anymore. She was pregnant with her second child, and racing down the coast to avoid a wildfire on Highway 17 and get back to her young son. She was on Highway 92 that afternoon when she decided it was time to create her own opportunity at home in Santa Cruz.
"I just thought, 'I'm not going to do this anymore,'" says Waters, 41, who is now on her third local startup with water tech provider Buoy. "If I'm going to live here, I need to work here."
A native of the Boston area who studied mechanical engineering at MIT, Waters first moved to Mountain View for a job at dot-com-era powerhouse Silicon Graphics. She'd been driving over the hill off and on since 2000, when she moved to Santa Cruz with her now-husband to escape the constant feeling of living "between an office park and a Safeway" in Silicon Valley.
Today, Waters' three-year-old company Buoy is wading into conservation issues that are front and center for Santa Cruz, and other customers in more than 20 states. The startup sells a $17.99-a-month subscription system, plus a $299 plumber installation fee, that fuses an in-home water sensor with a mobile app that allows homeowners to monitor their usage and intervene when there's a suspected leak.
Continue reading here: http://goodtimes.sc/santa-cruz-news/water-tech-founder-buoys-santa-cruz-startup-scene/
###
Tagged Buoy