Featured
A $5 million grant will kick-start UCSC Science & Engineering library transformation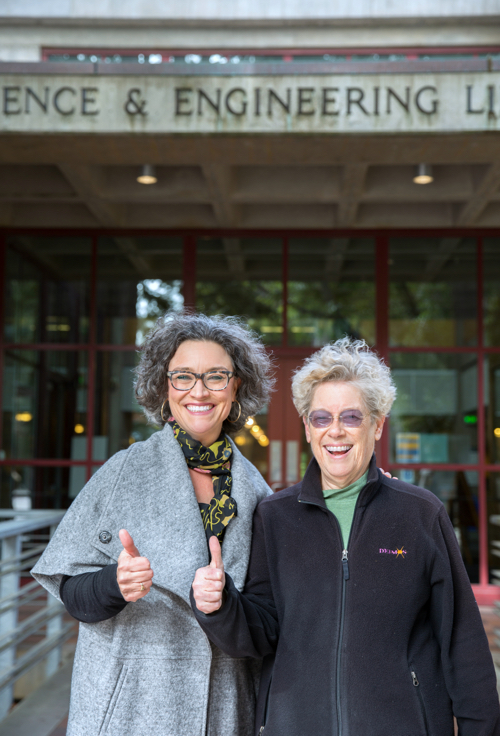 By Scott Hernandez-Jason
UC Santa Cruz
March 13, 2018 — Santa Cruz, CA
(Photo above: University Librarian Elizabeth Cowell, left, and Professor Emerita Sandy Faber. The top floor of the Science and Engineering Library will be named in honor of Faber, who is renowned for her contributions to the understanding of dark matter, galaxy formation, and the large-scale structure of the universe. Credit: Carolyn Lagattuta)
The transformation of the Science and Engineering Library will start later this year using a $5 million grant to kickstart the initiative.
"The library—a repository of knowledge—remains fundamental to the mission of our university, yet it must evolve to meet the needs of today's world of inquiry," Chancellor George Blumenthal said. "This grant helps to launch an important reimagining of our Science and Engineering Library that will ensure its central place in our campus for the decades to come."
The re-envisioning of the Science and Engineering Library will be completed in phases, starting with the top floor. The grant, from a foundation that wished to remain anonymous, will transform the physical experience of that space in ways that will support and inspire students.
Continue reading article here: https://news.ucsc.edu/2018/03/se-library.html
###
Tagged UC Santa Cruz