Companies
Buoy's product release marks a milestone for smart home devices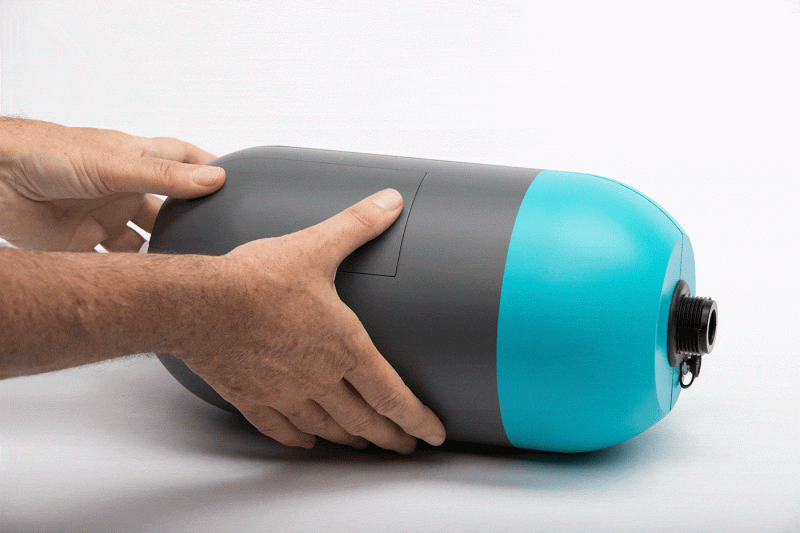 By Carrie Kingsley
Buoy Marketing Communications Director
Special to Santa Cruz Tech Beat
September 20, 2017 — Santa Cruz, CA
(Image above: To charge the battery, just slide it out and plug it into a standard wall outlet for two hours. Contributed)
After a year of rigorous beta testing around the country, Buoy's smart home water device is now available to all homeowners.
Buoy categorizes your water use in real time, and sends an alert to your phone if there's a leak so you can shut off your water remotely from the app. Buoy's machine-learning algorithms have always been able to tell the difference between flushing the toilet, running the dishwasher or watering a lawn, and have proven effective in preventing water damage, but this week's product release shows some marked improvements from the beta version.
A rechargeable battery pack now powers Buoy; it charges in two hours from a standard wall outlet, and holds the charge for months. For homeowners who want continuous, charge-free operation, Buoy can still be plugged into a nearby outlet.
"We want to give homeowners the option," says Hilary Bryant, Buoy co-founder and head of Customer Support. "Most homes, especially those built more than 10 years ago, have very few outdoor outlets. The solution had to be within Buoy; asking homeowners to install a new outlet or run a cord from one end of the house to Buoy at the water main isn't reasonable. Power was an issue we had to solve. The rechargeable battery is beautiful."
The sleek design of the Buoy hasn't changed; it's still just 12" long and 6" around, and the battery tucks efficiently inside.
Buoy integrates with Alexa and Nest to make your smart home even smarter. If you have a leak or a running toilet, Buoy sends you an alert you so you can shut off your water remotely, avoiding surprise water bills and costly damage. Buoy removes the urgency from plumbing problems, and the ability to take time to plan the right fix reduces both the cost of the solution and the stress involved in plumbing emergencies.
Remote shutoff has already saved beta users countless repair dollars and hours, alerting Buoy owners to a burst hose in a laundry room or running toilets that lost hundreds of gallons of water per day. Buoy also saves money by simply giving homeowners information about their water usage. Most homes lose 10 percent of their water to leaks, and Buoy helps homeowners locate and address those leaks. When Buoy shows homeowners that they're using a lot of water one day, they can reduce their water usage for a few days to compensate, keeping their bills predictable.
Buoy CEO and co-founder Keri Waters has been looking forward to launch day – and beyond.
 

"We're thrilled to finally put Buoy in the hands of homeowners nationwide. We think the most important first step in ensuring sustainable, abundant, clean water for all homes nationwide is making every homeowner aware of how much they need for all the things they love, and helping them get rid of water waste. We know every home wastes about 10% of its water, and that some of those leaks cause massive damage. It's amazing to me that we don't use technology to fix that. We think every home will benefit from Buoy," Waters said.

Santa Cruz-area customers get a special deal on Buoy installation
To celebrate this product launch, Santa Cruz-area customers get a special deal on Buoy installation: The Friends & Family Launch Special offers a flat-rate price that includes the Buoy device, installation by Santa Cruz Plumbing, and a lifetime data subscription.
As an added bonus, when Buoy detects a leak a homeowner can't fix, these installers are familiar with Buoy and can help solve the problem.
It looks like everything Buoy got an upgrade for the product launch. Algorithms learn faster, Buoy has a battery and integrates with homes more easily, and installation is more easily facilitated. The year of intense development brought results.
Buoy is now available to order on the Buoy website: https://buoy.ai.  
###
If you wish to republish this article, please follow our Terms of Use.
###
Tagged Buoy