Companies
Riding the new wave in personal transportation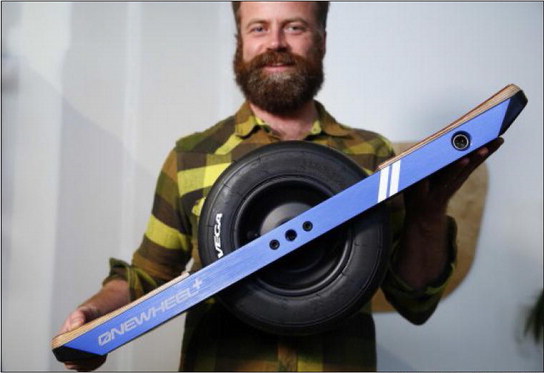 By Richard Scheinin
Bay Area News Group
December 6, 2017 — Santa Cruz, CA
(Photo above: Kyle Doerksen shows off the Onewheel transportation device he invented at his office at Future Motion in Santa Cruz. Onewheel is an electric powered board that rides on a single go-kart racing slick that gives the sensation of snowboarding on pavement or off road. Credit: Gary Reyes)

Future Motion's battery-powered Onewheel invention offers individual mobility for commuters and weekend warriors
In his lumberjack shirt and jeans, Kyle Doerksen doesn't cut the figure of the typical CEO, especially when he goes gliding down the wide hallways of the old Wrigley gum factory on his cool little Onewheel. He weaves this way and that like a 21st century Jetson, taking a long smooth ride on his e-vehicle.
It looks like a big old skateboard sitting atop one fat wheel.
Battery-driven and stocked with technology, it has a range of six to eight miles and can go up to 20 miles per hour. Doerksen, who invented the Onewheel and founded Future Motion, the company that builds it, believes it represents the new wave in personal mobility: "This is like the PC stage of transportation," he says. "We've been on mainframes – cars – for generations. But we're now seeing the development of all these niche transportation modes, like Onewheel."
A Stanford-trained engineer who studied neuroscience as an undergraduate, Doerksen began working on his invention in 2008 in his Mountain View garage. A 2014 Kickstarter campaign raised $630,000 in three weeks and the first Onewheels hit the market late that year. In 2015, Doerksen moved his company to this reconstituted chewing gum factory, where the hallways are lined with startups designing everything from guitar straps to synthetic heart valves and electric bicycles.
Future Motion has raised $6.5 million in venture funding and sold "thousands" of Onewheels. It declines to disclose exact sales figures. At a cost of $1,499, the Onewheel – or Onewheel+, as the latest model is known – occupies the same general marketplace as electric bicycles and four-wheeled electric skateboards.
But that single fat wheel – the motor fits inside the hub — offers a continuous surface that helps generate a unique ride.
Continue reading article here: http://www.mercurynews.com/2017/11/22/faster-than-a-speeding-skateboard-onewheel-represents-the-new-wave-in-personal-transportation/
###
Tagged Onewheel