Events
New Cabrillo College Makerspace ready to go public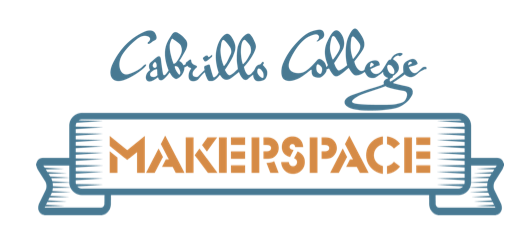 (Contributed)
November 29, 2017 — Aptos, CA
Mark the "Sneak Peek" Experiences and the Grand Opening Celebration events in December and January on your calendars, now, and plan to join us…and bring a friend!
As you may recall, Cabrillo College received a sizable 2-year grant ($700K) from the California Community College Chancellor's Office CCC Maker Initiative in July to develop a Cabrillo College Makerspace.
Since early August, digital art fabrication instructor and Cabrillo College Makerspace Director Payson McNett and his team have been busy building the new space, and they're finally ready to share it with the public!
The space will serve the entire campus and surrounding community with a mix of traditional (credit) and non-traditional learning and making opportunities (via Cabrillo College Extension Makerspace Memberships for the entire community) in a collaborative, fun, and failure-positive environment.
The website goes live on December 4, 2017: http://www.cabrillomakerspace.com
---
Cabrillo Makerspace opening activities in December and January
FREE Cabrillo College Makerspace "Sneak Peeks" for the entire community (including equipment demos and tours)
Friday December 15: 5-7:30pm
Friday December 22: 5-7:30pm
Friday December 29: 5-7:30pm
Friday January 5: 5-7:30pm
Friday January 12: 5-7:30pm
The Cabrillo College Makerspace Grand Opening is January 20, 2018, 2-6pm
Plan to join us for this fun event, including equipment demos, giveaways, refreshments, and a ribbon cutting ceremony at 3pm.
Parking for all of the above events is free in Lot L on Cabrillo's Aptos Campus.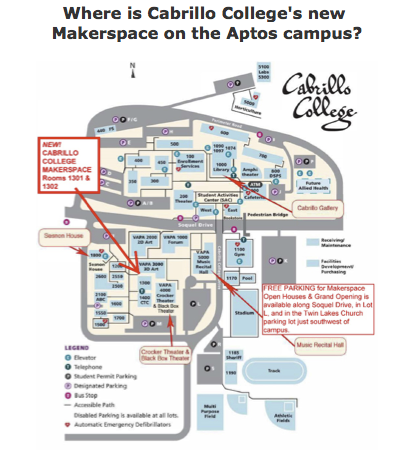 ---
Subsidized Cabrillo College student maker internships available for your organization
Starting now through June 30, 2018, Cabrillo College seeks to place 50 Cabrillo College student interns in area businesses and non-profits who need these maker-related skills/services:
Rapid prototyping and iterative product design and fabrication using CNC machines, 3D scanners and printers, laser cutters/engravers, and vinyl cutters
Advanced manufacturing techniques
Training and outreach on new maker technology/processes
Other emerging technologies and processes requiring a combination of artistic/creative design and making skills, coupled with technical/engineering skills
CAD/CAM (Computer Aided Design/Manufacturing)
If you are a member of the business or non-profit sector and are interested in hosting Cabrillo College Makerspace interns at your organization, please contact Courtney Cogan, Employment Services Specialist and Job Developer at Goodwill Central Coast: Courtney Cogan, Goodwill Central Coast, ccogan@ccgoodwill.org, Office 831-423-8611; ext. 8214, Cell 831-291-2233. Cabrillo College has partnered with Courtney and her team at Goodwill to work with you in connecting your organization with trained Cabrillo College Makerspace student interns.
Meet Courtney and John Graulty, Cabrillo's Dean of Visual, Applied, & Performing Arts & Makerspace Grant Project Lead, at the December 6, 2017 Santa Cruz New Tech Meetup, and learn more about Cabrillo's new Makerspace, internship opportunities, and more.
Two internship options for area businesses & non-profits
Off-campus/at work site experience – a traditional workplace internship experience in maker-related focus areas outlined above.
Project-based internship completed in the Cabrillo College Makerspace for the internship provider. Work will be done by a single student or small team of students (3-4) working in the Cabrillo College Makerspace to complete project beneficial to the internship provider. The internship provider will provide evaluation and oversight, including, perhaps, special intern training on-site at the Cabrillo Makerspace.
Setting up internships
Once you've determined the kind of internship arrangement described above that best serves your organization, Courtney Cogan at Goodwill Central Coast will coordinate with you, the internship host, and with Cabrillo College, to:
Identify internship provider's goals/job description/needs
Establish scope/timeframe for the internship (Minimum of 20 hours required; placements starting immediately)
Pre-screen and pair Cabrillo College student interns with internship providers
Internship length and funding
Internships must be a minimum of 20 hours, but could expand to 60 or more.
The Foundation for California Community Colleges (FCCC) has generously offered to pay for up to 20 hours of the internship and serve as the employer of record. The Cabrillo College Foundation (CCF) has also generously agreed to subsidize some additional internship hours. Additional hours beyond those subsidized by the FCCC and CCF would be paid by the internship host. Employers may also host unpaid internships.
---
Cabrillo Makerspace programming to look forward to
Credit and non-credit educational and enrichment programs, including individual community memberships made available through the Cabrillo Extension Division starting in early February 2018, will be offered to community members, faculty, staff, and students so that they might fully utilize Cabrillo's new Makerspace.
Those on and off campus seeking skill development for existing maker-related employment opportunities, new entrepreneurial ventures, or just a good time designing and making in a vibrant, fun space using cutting-edge technology, will find a home at Cabrillo's new Makerspace.
###