Events
County of Santa Cruz invites tech startups to participate in STIR program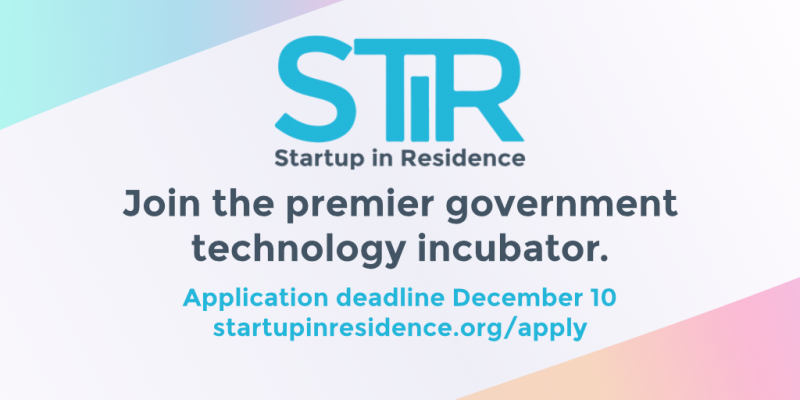 By Jason Hoppin
Communications Manager
County of Santa Cruz
November 28, 2017 — Santa Cruz, CA
"Our challenge is to use technology to help reduce homelessness through an app that matches local landlords with Housing Choice Voucher Program (Section 8) tenants."
Applications due by December 10, 2017
The County of Santa Cruz and local tech startups have an opportunity to come together through the City Innovate Foundation Startup in Residence (STIR) program, which aims to build the government of the future through entrepreneurship. Santa Cruz County is one of a dozen cities and counties from across the United States chosen for the program, joining larger locales such as Houston and San Francisco in summoning the talents of the tech industry to benefit local residents.
We are asking local startups to consider applying for the program. Our challenge is to use technology to help reduce homelessness through an app that matches local landlords with Housing Choice Voucher Program (Section 8) tenants. Often, the biggest obstacle to housing a homeless person isn't their ability to pay the rent – it's that there aren't enough landlords renting to homeless individuals.
We think technology can help remove barriers to landlord participation, answer some of the natural questions any landlord would have, and eliminate the need to advertise vacant units by pairing landlords with a list of prospective tenants that meet the rental criteria, making that crucial first connection necessary to finding housing. A successful product will help reduce local homelessness and increase the availability of quality affordable housing, while injecting federal and State housing program funds into the local economy. With successful implementation in Santa Cruz County, such a product could be utilized throughout the United States.
If chosen, startups will embed themselves over a period of 16 weeks with local governments in order to learn more about the issues and design effective solutions using the STIR program's facilitated development process. Startups will bring technical skills that are beyond the capabilities of most local government while gaining valuable exposure to a network of Startup in Residence cities and counties. Startups will be able to leverage the STIR program expedited procurement process, which could lead to a client contract following the 16 week residency, occurring from February to May 2018.
Santa Cruz County is not the only government issuing a challenge. Governments from Boulder, Colo. to Miami-Dade County have identified a total of 37 civic challenges to be addressed in 2018. The County of Santa Cruz encourages every local entrepreneur to consider applying for any of the challenges.
To apply, go to startupinresidence.org/apply. Applications are due December 10, 2017 with a webinar held Thursday, November 30, 2017 for interested applicants.

Links:
###
If you wish to republish this article, please follow our Terms of Use.
###
Tagged County of Santa Cruz, STIR