Featured
30 Years After The Loma Prieta Earthquake: Tech and Emergency Services in the County of Santa Cruz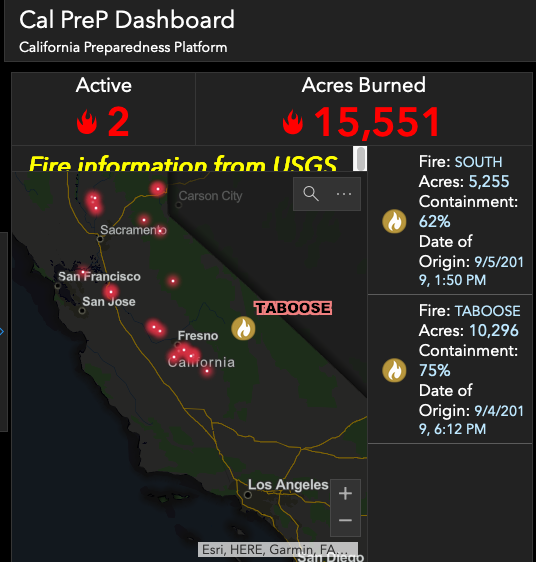 By Rosemary L. Anderson
Emergency Services Manager, County of Santa Cruz
Special for Santa Cruz Tech Beat
September 30, 2019 — Santa Cruz, CA
Thirty years is a lifetime when it is applied to technological advances. When the 1989 Loma Prieta earthquake occurred, I was on a wall phone in my home in Watsonville, calling to order dinner for my toddler and neighbors because I had a final exam at Cabrillo. Our neighborhood was damaged pretty seriously and there was no google to find out what happened, no cell phones to contact loved ones locally or in the bay area to see if they were okay; electricity was very quickly cut off, as were gas and water supplies. News came over battery powered or car radios.
Today, there are quite a few high-tech tools we utilize (and are in the process of acquiring or developing) that assist in planning, preparing for and recovering from disasters and other major incidents.
These resources are all publicly available.
CalPrep Map: (CA Governor's Office of emergency Services)  has greatly improved Department of Public Works responses to potholes, illegal dumping, dead birds and animals (which can spread disease) hazmat spills, code violations and other reportable offenses – an 'all eyes' approach to County situational awareness and response
PG&E Resources (gives us tremendous just in time information to augment our own)  As part of its Community Wildfire Safety Program (CWSP), Pacific Gas and Electric Company (PG&E) announced that it is expanding its network of weather stations and high-definition cameras. By the end of 2019, PG&E plans to have at least 600 weather stations and 100 high-definition cameras in high fire-threat areas.
Approximately 400 new weather stations are scheduled to be installed in 2019, prioritized in areas at elevated and extreme risk for wildfires, based on the California Public Utilities Commission (CPUC) High Fire-Threat District Map and PGE Weather Awareness.
Mass Notification System and alerting
Code Red is the method we use for creating reverse 9-1-1 messaging to specific areas in an emergent event such as extreme weather, flooding, fire concerns, health threats etc., it is an opt in system, as are most alerting systems, meaning you have to register with the system if you do not have a true land line, in order to receive alerts. You can also download the Code Red application to your phone which enables you to receive alerts that are geographically specific.
In the absence of the technical tools we rely on today, neighbor to neighbor contact, constant hyper situational awareness, and a formulated plan that you exercise to regularly; is the way to successfully navigate and respond to any catastrophic event.
We, as County first responders, are working diligently to enhance response capabilities and better prepare the residents to know how to effectively respond themselves. Given the diverse topography we are both fortunate and challenged to be living in, this is a constant area of concern and dedicated time is spent to look for all ways to address and improve them.
###
Tagged County of Santa Cruz