Companies
Inboard Technology announces $8M Series A financing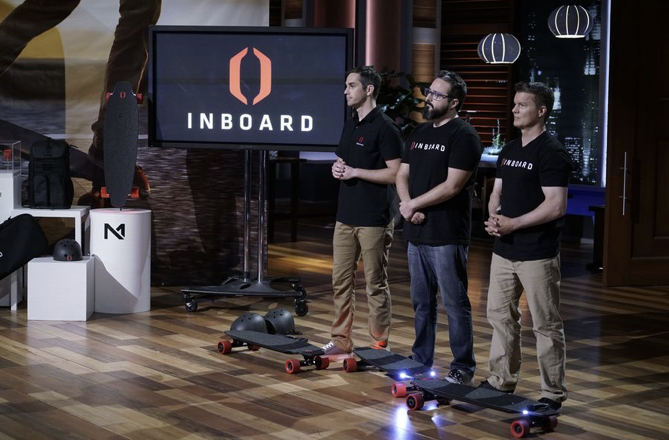 (Contributed)
November 16, 2017 — Santa Cruz, CA
(Photo above: The team from Inboard got into the tank on "Shark Tank" on December 2, 2016. Credit: ABC/Michael Desmond)
$8M series A financing led by Upfront Ventures will accelerate the transformation of personal electric transportation.
Upfront partner Kobie Fuller joins board of directors as the Inboard M1 arrives in more than 200 Best Buy stores.
Inboard Technology, creators of the world's first and only electric skateboard with a battery that swaps in seconds for unlimited range, and dual in-wheel motors for no-maintenance operation, today announced the closing of $8 million in Series A funding, bringing the total raised to $11.7 million. The round was led by Upfront Ventures, a Los Angeles-based venture capital firm with an extensive record of success in consumer goods and services. Additional participation from LION Smart, a leader in the development of electrical energy storage and battery system technology, and Sunstone Capital, a European technology venture fund, builds on the original seed funding from Sweet Capital, the fund from the founders of King Digital Entertainment, creators of Candy Crush Saga.
"As the adoption of personal electric rideables becomes an integral part of the urban transportation landscape, Inboard Technology is ideally positioned to capture this huge opportunity," said Kobie Fuller, General Partner at Upfront Ventures. "This team has shown how to innovate around brand, product and service, to deliver outstanding products that appeal to a rising generation of city travelers."
The company's M1 premium electric skateboard offers unlimited range with the category's only swappable battery. The M1's sleek design, and powerful, rugged, dual in-wheel motors meet consumer demands for performance, reliability, and style. The M1 is also the only electric skateboard that improves over time with regular firmware updates. The most recent update delivered 40% more torque, meaning faster off the line performance and dramatically better hill-climbing ability.
"This new investment enables us to accelerate manufacturing and distribution to meet the fast-growing demand for our electric rideables, and adds Kobie and the Upfront team's wealth of experience in scaling consumer businesses," said Ryan Evans, CEO of Inboard Technology. "At the same time, we are expanding the availability of the M1 in the U.S. into more than 200 Best Buy stores and to BestBuy.com to provide consumers more ways to encounter our flagship product."
The expansion sees the M1 joining Best Buy's growing category of personal electric rideables.
Read what TechCrunch has to say about this news:
https://techcrunch.com/2017/11/16/inboard-technology-raises-8-million-to-be-the-tesla-of-electric-skateboards/
Take a ride on the M1 in Pleasure Point:
About Inboard Technology
Inboard Technology was founded in 2014 by Ryan Evans and Theo Cerboneschi to create a new breed of high-performance, lightweight personal electric rideables to bridge the last miles in urban transportation systems. The company shot to prominence at the end of 2016 on MSNBC's Shark Tank show where it secured a deal and also exceeded a Kickstarter goal by 421 percent. Inboard Technology is based in Santa Cruz, California, the city at the center of surf and action sports innovation. The M1 is available online at https://inboardtechnology.com, Amazon.com, over 200 Best Buy locations, and many specialty retailers throughout the US and Canada. In Europe, the M1 is available through a network of dealers supported by Aqipa Europe (Aqipa.com).
About Upfront Ventures
Upfront Ventures is a Los Angeles-based venture capital firm that is focused on investments in early stage technology companies. The firm has been making investments in tech companies like Ring, Maker Studios, TrueCar, Overture, CitySearch, BillMeLater, Envestnet, DealerTrack, CyberSource, Qualys, HDI, and Ulta Beauty since 1996.
###
Tagged Inboard Technology