Companies
MBARI's ROV Ventana undergoes an overhaul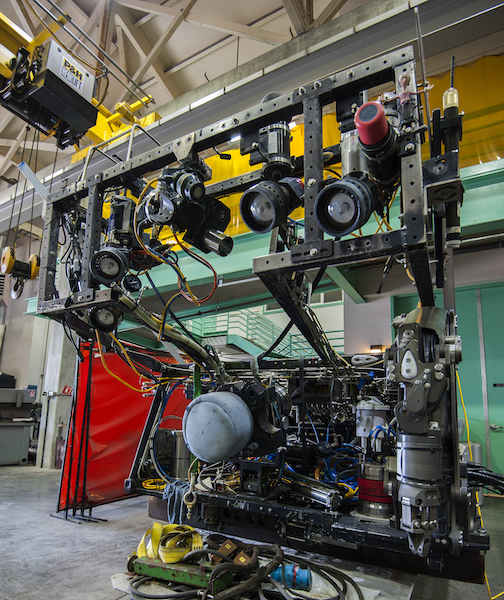 (Source: MBARI website)
November 14, 2017 — Moss Landing, CA
(Photo above: The front of ROV Ventana without the foamblock. Credit: Todd Walsh)
While the MBARI research vessel Rachel Carson is in the shipyard for an important engine upgrade, the marine operations team that manages the remotely operated vehicle Ventana is taking full advantage of the nearly three months the vehicle is off the ship.
The first order of business was removing the large foam block from the vehicle. The block is designed to add just enough buoyancy to ensure that if anything goes wrong, the vehicle will float to the surface. Also, when the ROV operates with slight positive buoyancy, there is minimal disturbance to fine sediments on the seafloor from the ROV thrusters.  This makes benthic research and observations much easier.
When the foam block came off the vehicle, the team found a few "surprises," said Craig Dawe technical support manager. The main surprise was damage to the main lift plate—the mechanism necessary for lifting the ROV on and off the R/V RachelCarson. Members of the ROV team noticed small cracks in the stainless plate, which can lead to corrosion from water intrusion. There was also rust and damage to the structure surrounding the lift plate. Repairs to the lift plate were added to the two primary maintenance goals: 1) re-trim the vehicle and 2) replace the original hydraulic system. These repairs are no small feats on their own.
Continue reading article here: https://www.mbari.org/rov-ventana-undergoes-overhaul/
###
Tagged MBARI