Companies
Incubeach presents Product Hunt Hackathon live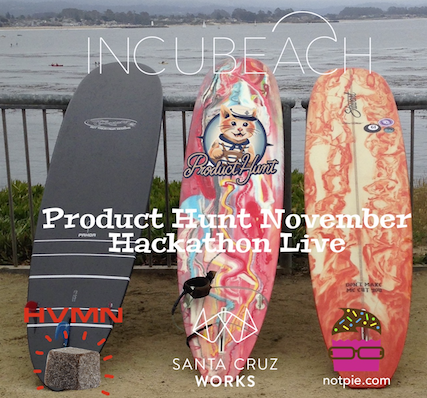 By Joshua Bradley
Product Hunt
November 7, 2017 — Santa Cruz, CA
Product Hunt Hackathon Live!
Sat Nov 18, 9am to Sun Nov 19, 7pm (not overnight)
Santa Cruz Works, 2837 Mission Street, Suite 37, Santa Cruz, CA
Learn more here.
Product Hunt has kicked off a month-long hackathon, and Incubeach will be hosting a 2-day workathon in Santa Cruz to support local entrepreneurs, wantrapreneurs, solopreneurs, and anyone else interested in making something awesome.
Categories for judging include:
Social Impact
Blockchain
Google Assistant
Augmented Reality
and more
Winners will be selected by people from Slack, AngelLIst, Y Combinator, and others.
From Product Hunt's hackathon website:
"With over $250,000 in prizes and a suite of amazing partners and tools, you'll have the entire month to collaborate, get feedback, and refine your product before sharing your creation with the world and our panel of remarkable judges."
Get more info at Incubeach.com — providing support, resources and mentoring for entrepreneurs and founders in Santa Cruz, at https://www.producthunt.com/hackathon, and check out our Facebook event.
###
Tagged Hackathon