Events
Students Create Disaster Survival Apps at CSUMB Hackathon Weekend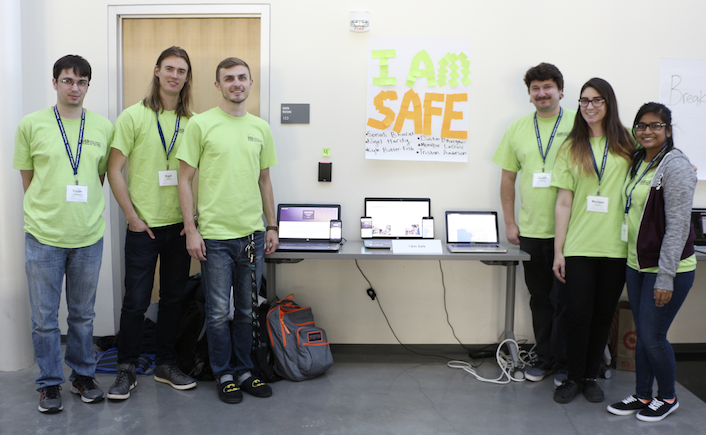 By Jan Janes
Special to Santa Cruz Tech Beat
November 6, 2017 — Seaside, CA
(Photo above: The I Am Safe team won First Place at CSUMB's Hackathon Weekend. Credit: Jan Janes Media)
Solutions for people to prepare, survive and recover from a major natural disaster
Year six of the CSUMB Hackathon this past weekend challenged students to imagine and build technology-based solutions for people to prepare, survive and recover from a major natural disaster.
More than 100 students from CSUMB, Cabrillo College, Monterey Peninsula College, Pacific Collegiate Academy in Santa Cruz, and CS3 students from Hartnell College and CSUMB participated.
"While there was some crossover in the problems identified, the students' solutions were unique," said Jason Henderson, a key event organizer, faculty at CSUMB and CEO of Henderson Systems LLC. "These were hard problems."
Students arrived on the Seaside campus Friday afternoon, participated in ice breakers and interest groups, forming 13 teams at the end of the evening. During 44 hours, they went from perfect strangers to goal busting software teams with usable technology to showcase on Sunday.
First Place
I Am Safe, allows people to download the app and share their "I am safe" message with their own network in the event of a disaster. The program does not store personal information, is scalable, mobile friendly and accessible across any device. Users can indicate their safety and also message if support or supplies are needed. The team, all from CSUMB: Tristan Anderson, Sonali Bharat, Kyle Butler-Fish, Dustin D'Avignon, Nigel Hardy, Monique LaCroix.
Second Place
First Responder, a database alert system of certified, CPR-trained first responders near an emergency incident who can be on the scene and assist quickly while waiting the 10-15 minutes for paramedics to arrive and take over. The team, all from CSUMB: Jonas Deichelmann, Donald Dong, Jim-Alexander Berger Gundersen, Ronny Haaland, Adrian Martinez, Simon Nielsen, Erick Shaffer.
People's Choice
Life is Ruff, an app that announces missing pets and found pets with their owners. The team, from both Cabrillo College and Monterey Peninsula College: Christopher Billingsley, Sean Breckenridge, John Heino, Shaun Kallis, Clara Olson, Christopher Perez.
Projects that did not officially win had another path to viability. Ken Folsom, CSUMB Emergency Services manager, identified three projects he wants to move forward, either through campus police support or community services support. In addition to Life is Ruff, a student ID program and a drone program received his support. All Accounted For uses a UHF card as a student ID to locate students, and Fly Line is a drone search program for people stranded after a disaster.
"Each year this event highlights the importance of creating, and all teams had working apps," said Brad Barbeau, business professor with CSUMB. "Students worked all night to get the coding done, learning new programming languages during the weekend."
Mentors for the weekend included Al Budris of Taygeta and CSUMB, Skip Carter of Taygeta, Glen Henderson of Monterey Makers, Shana Kropp of Taygeta, and Avneesh Kumar of Schoolze Inc.
Judges were Gerlinda Brady of Cabrillo College, Fred Cohen of Management Analytics, Judith Cutting of Monterey Peninsula College, Shyam Kamath and Miguel Lara of CSUMB, Josh Metz of FORA and Glen Woodbury of NPS.
The focus shifts to business applications with Startup Weekend Monterey Bay, January 26-28, 2018, at the CSUMB campus in Seaside. Visit eventbrite and startupmontereybay.org for more information.
###
Jan Janes, Communications Director, Web Publisher, Television & Radio Producer, Photojournalist, Social Media Architect, can be reached on LinkedIn.
###
If you wish to republish this article, please follow our Terms of Use.
###