Companies
LitmusBox Brings Telepresence to Downtown Santa Cruz Event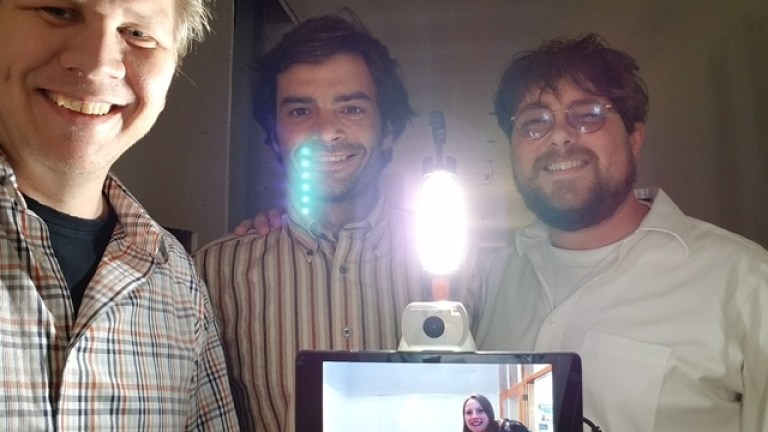 By Carmen Palacios
Litmusbox
October 31, 2017 — Santa Cruz, CA
(Photo above, left to right: Litmusbox president JT Mudge, developer Antonio De Luca, intern Matt Boddy, and project manager Carmen Palacios over telepresence, prepare for the DTA event. Credit: JT Mudge.)
Ever find that the unexpected can be the best at livening up a party?
Last month the digital engagement agency LitmusBox teamed up with local organizations for a special project, finding that sometimes the unexpected can be the life of the party….
LitmusBox was approached by the Downtown Association (DTA) to join the fun and help with a special project.
Chip, director of the DTA, approached the LitmusBox team as he searched for a way to bring engagement to the business portion of the 2017 Downtown Party. The 2017 Downtown party would feature announcements of new developments, projects, and program growth within the downtown area as well as promote local businesses. Chip and LitmusBox's president, JT Mudge, decided that just talking about new projects would be far too traditional and boring. Instead, they set out to bring a new level of interaction and engagement to the unveilings.
To do this, the DTA, LitmusBox, and Barry Swenson Builder collaborated to bring party-goers a fun and engaging way to learn about some of the changes coming to downtown, particularly new housing developments. After brainstorming potential ways to engage guests with community changes, it was decided that the best thing to do was to bring guests to the development site itself. However, with the site still undergoing construction, virtually bringing guests to the site was the next best thing.
LitmusBox deployed their telepresence bot (telebot) Ohmni, created by OhmniLabs, to do the job. LitmusBox felt that the Ohmni Telebot would be the perfect way to bring a remote experience to personal engagement.
With the help of Barry Swenson Builder, the LitmusBox team set up a telebot in the newly developed 555 Pacific housing complex. For party guests to access the bot and virtually tour 555, LitmusBox's Project Manager Carmen set up station in Cosmic Design at the center of the downtown party.
Continue reading article here: https://litmusbox.com/goodstuff/litmusbox-brings-telepresence-downtown/
###
Tagged Litmusbox