Companies
How to build and grow an SDR team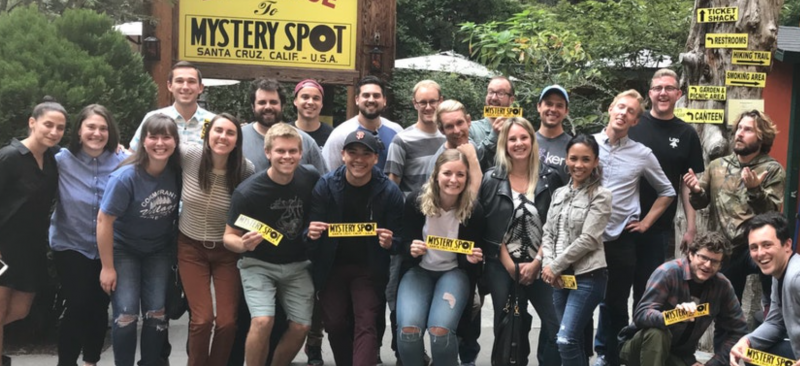 By Sulagna Misra
Lattice
October 31, 2017 — Santa Cruz, CA
(Photo above: Looker-istas visit the Mystery Spot. Source: Lattice.com)
How does Looker scale its SDR team without losing its helpful and generous culture?
Business intelligence and analytics start-up Looker started with10 employees and a handful of customers in 2013 and is now on pace to reach 450 employees and over 1,200 customers by the end of this year. Looker's client roster includes rising stars Twilio, Venmo, and Casper.
Director of Sales Development Kyle Coleman started in 2013 as the Sales Development Lead, and has personally seen how Looker has scaled its team without losing its helpful and generous culture.
It helps that Looker's mission —  creating a real data culture and make it pervasive at companies — is an inherently helpful one.
"Our aim is to make a data platform that is accessible for every department," says Coleman. "So it can solve problems for every department, and be usable regardless of the person's technical knowhow."
Typically they find that customers come to them with two main problems:
Data bottleneck, where only one to two people deal with the data and are unable to help everyone who requests help analyzing it. Dollar Shave Club used Looker to make sense of all the data it was gathering, particularly in its email promotions, shipping and customer retention, and its sampling program. Looker helped them uncover key optimization opportunities that were previously hidden in piles of unanalyzed data.
Data chaos, where different groups of users are reporting different numbers for the same metrics, likely because the metrics differ depending on the source. Twilio had trouble with inconsistent data across the board. Looker helped them bring order to the chaos but figuring out how to gather and organize it.
Looker began hiring SDRs (Sales Development Representatives) in 2013. Over the past four years, it has developed a finely tuned process for building their SDR team — in their hiring, onboarding, and success. Unsurprisingly, the process is mostly data-backed, but not how you think.
Team Structure
Looker currently has 30 SDRs supporting 60 AEs (account executives) in three different roles:
Continue reading article here: https://lattice.com/blog/how-to-build-and-grow-an-sdr-team-like-looker/
###
Tagged Looker