Featured
UCSC research tackles big data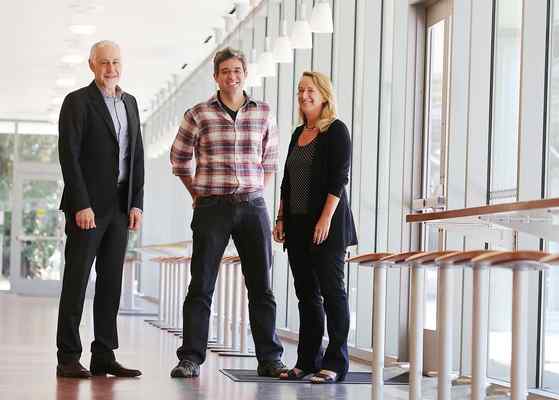 By Nicholas Ibarra
Santa Cruz Sentinel
September 26, 2017 — Santa Cruz, CA
(Photo above: UC Santa Cruz is a hotbed for developing new foundations in data science with, from right, Director of UCSC's Center for Data, Discovery and Decisions Lise Getoor, Principal Investigator Abel Rodriguez and Baskin School of Engineering Dean Alexander Wolf. Credit: Shmuel Thaler)
[Editor's note: Santa Cruz Tech Beat published UCSC launches new data science research center (6/29/17) and NSF awards $1.5 million grant for data science research at UCSC (8/24/17)].
From purchasing habits to political and sexual preferences, what can be inferred from seemingly innocuous personal data can be shocking. Certainly that was the case for one Minnesota father who angrily confronted Target employees about baby-related coupons sent to his teenage daughter — only to find out that the company's algorithms had correctly sleuthed out what he had failed to see.
The rise of what's known as 'big data' poses a number of difficult questions about privacy, ownership, accuracy and bias. Armed with a new data science center and $1.5 million grant, a cross-disciplinary team of UC Santa Cruz researchers are hoping to find some answers and create a framework for what they call "responsible data science."
The researchers come from the disciplines of computer science, statistics and mathematics. By combining the most effective tools and techniques from each discipline — and forging new models where needed — the team hopes to build a toolkit that could have applications in social sciences, biology, and computer networking and security.
"We're putting it all together specifically for this crazy, interconnected world that we're in to understand how these models can all be brought to bear to understand what it means to be accurate, what it means to be biased, and what it means to preserve privacy," said project lead Lise Getoor, a professor of computer science at UCSC.
Another goal of the three-year initiative is to build educational materials that can help introduce young people to the key concepts and concerns involved in data science, Getoor said.
"There's a real need to educate the public and students to be aware of even the most basic versions of bias," she said.
Continue reading article here: http://www.santacruzsentinel.com/social-affairs/20170925/privacy-accuracy-bias-uc-santa-cruz-research-tackles-big-data
###
Tagged Baskin School of Engineering, Big Data, Data Discovery Decisions (D3), UC Santa Cruz