Companies
Impressions – Thimbleweed Park (Switch)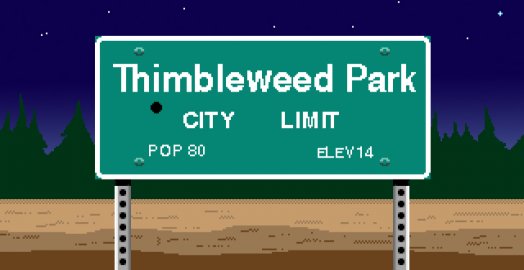 (Source: http://4colorrebellion.com)
September 21, 2017 — Felton, CA
[Editor's note: Read past Santa Cruz Tech Beat articles about Thimbleweeed Park here.]
"The story of Thimbleweed Park begins in October 1987, with a dead body pixelating under a bridge (in-jokes wait for no man) outside of a town sharing its name with the game"
The democratization of game development – bringing with it both lowered price of entry for potential developers and new means of crowdsourcing the funding needed to build the games – has led to a resurgence of certain styles of game. Genres dismissed as risky by big publishers have seen something of a renaissance as indie developers emerge to fill the void.
This resurgence is most obvious when looking at platformers, especially Metroid-style sidescrollers. Just over a decade ago, Nintendo was the last holdout – now, you can't navigate a digital storefront without tripping over a dozen of them. However, the indie wave has also benefited even more niche genres, like the adventure game. Fans of "point n' clicks" have turned out in incredible numbers to back the genre, enabling both new entries – and incredibly – new takes from the developers that defined these games.
Earlier this year, Ron Gilbert and Gary Winnick – two of the geniuses behind LucasArts classics like Maniac Mansion and the Monkey Island series – released Thimbleweed Park, a love letter to their earlier titles. Today, Thimbleweed hits the Nintendo Switch, and I took a look.
Like many overtly wordy 30-something nerds, I have a pretty extensive personal history with LucasArts and their adventure games. I came to gaming mostly via portables of all things. My first gaming experiences were on an Atari 2600 at my kindergarten's afterschool program, but the first device I actually owned was a Game Boy. The next step was, naturally, the SNES. I was hooked, and had to have more. However, money was fairly tight, so it was hard to justify a bunch of expensive cartridge purchases. However, we did have a Macintosh, and a seemingly endless number of garage sales tended to yield quite the selection of cheap computer games.
This was how I ended up with a copy of Day of the Tentacle. I basically based my entire purchasing decision on that awesome, shiny box.  I had no idea what to expect. It just looked weird enough to appeal to my equally weird personality. I brought that thing home, popped it in, and started on an experience so memorable that it shaped my entire gaming life from that point on.
Day of the Tentacle was like nothing I had played before. Your interaction options in something like Super Mario World were pretty much limited to jump on, slam with turtle, or set on fire. Suddenly, in Day of the Tentacle, you had this detailed world to explore. You could pick up objects, inspect them, look at them, push them… on and on! All of this interaction was, of course, in service of solving complex puzzles in order to progress through the story. The puzzles were also mind-blowing. Twitch actions didn't matter. You didn't need precision timing. It was all about thinking, and reasoning, and making these insane deductive leaps. Sure, the logic was completely absurd, but I loved that.
Like I said, twisted weirdo.
Continue reading article here: http://4colorrebellion.com/post/165588879777/impressions-thimbleweed-park-switch
###
Tagged game design, game developers, Thimbleweed Park