Companies
Thimbleweed Park: Gaming Like It's 1987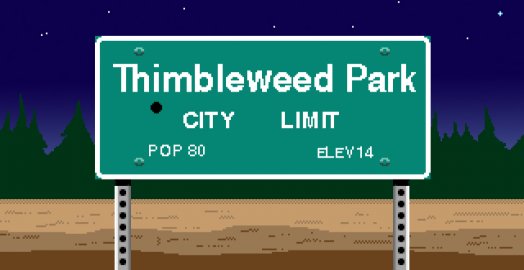 by Logan Booth
The Satellite Centers
[Editor's note: Santa Cruz Tech Beat published Garden of Gaming in Santa Cruz is Tilled and Ready for Growth on April 15, 2014. Add this new venture to the local gaming scene as it continues to emerge.]
"… like opening a dusty old desk drawer and finding an undiscovered LucasArts adventure game you've never played before."
Some 27 years ago Ron Gilbert and Felton local Gary Winnick worked at what was then known as LucasFilm Games – AKA LucasArts – and created what would become a groundbreaking game: Maniac Mansion. Whether you remember it for its dark, weird and entirely off-the-wall humor or for the fact that it introduced the world to the SCUMM ("Script Creation Utility for Maniac Mansion") engine which would go on to be the backbone of other popular LucasArts adventure games like Monkey Island, Maniac Mansion and its influence have clearly stood the test of time for more than a quarter of a century.
Enduring fan-base
More recently, meeting in Gary's office at The Satellite Center in Felton and elsewhere, the creators of this amazingly bizarre and influential game proved this enduring fan-base for their creation still existed via a Kickstarter campaign to make a "spiritual successor" to Maniac Mansion, calling their new project Thimbleweed Park.
Kickstarter campaign now at $459K and still rising
Launching their Kickstarter on November 18, 2014, it took the internet masses only six days to fund the Thimbleweed project to its initial goal of $375,000.00, with more than 10,000 individuals pledging their support. So now – whether or not Ron and Gary reach their stretch goals for translating their game into multiple languages, porting to mobile devices and hiring voice actors to add in audio dialogue – it looks like Thimbleweed Park is going to be a reality. Judging by the comments on the Kickstarter page, though, the estimated remaining development time of 18 months – making for a release around June 2016 – isn't even going to be fast enough for the clambering supporters to get their next fix of 1980's, LucasArts style gaming. As the duo say themselves via their Kickstarter page, Thimbleweed will be, "… like opening a dusty old desk drawer and finding an undiscovered LucasArts adventure game you've never played before." What gamer who got their start in the late 80's or early 90's could resist getting excited after a pitch like that?
Learning more about the game itself doesn't hurt, either. The interface – while not created using the old-school SCUMM engine – will still be the familiar point-and-click adventure style, utilizing a series of "verb commands" such as "Use", "Pick Up", "Look", Talk to", etc., in order to interact with items and environments in the game. Much like Maniac Mansion, Thimbleweed Park will feature five playable characters that players can switch between at any time, creating a robust gaming experience without all the pesky high-quality graphics getting in the way of the fun (and in all likelihood, the mild insanity) of the story and gameplay.
What is the premise of the game? Playing the parts of burnt-out detectives, a clown, and – somehow – a dead person who is not the victim of the story, you'll be solving a murder-mystery in the small factory town of Thimbleweed Park. The screenshots promise oddity at the very least on par with their previous creations, though as of yet there is no word on if the much beloved sentient tentacles that figured so prominently in Maniac Mansion and its sequel Day of the Tentacle will make any appearances.
If you'd like to lend your backing to Thimbleweed Park, you've still got plenty of opportunity. The Kickstarter campaign will be running on through December 18, 2014. While it has managed to break the $450,000.00 mark, the stretch funding goals run all the way up to $625,000.00 and – for lovers of the genre and style, especially those with who want to play the game on their phones – they're well worth contributing to the cause to reach.
Retro overload of giant pixels, weird humor and nostalgia
Whatever level of funding Thimbleweed Park achieves, though, the world of gaming is in for a retro overload of giant pixels, weird humor and nostalgia not just based on games of yore, but even made by the very same people who created that nostalgia in the first place. And for those of us looking forward to this opus, we can't thank Ron and Gary enough for realizing that we wanted this follow up even before we knew we wanted it ourselves. As the pair might very well say to us: what a bunch of tuna-heads we can be!
For more information: https://www.kickstarter.com/projects/thimbleweedpark/thimbleweed-park-a-new-classic-point-and-click-adv
###
Tagged Thimbleweed Park
Related Posts