Companies
Hello Salinas! AgTech succeeds as a summit, but can it transform Salinas?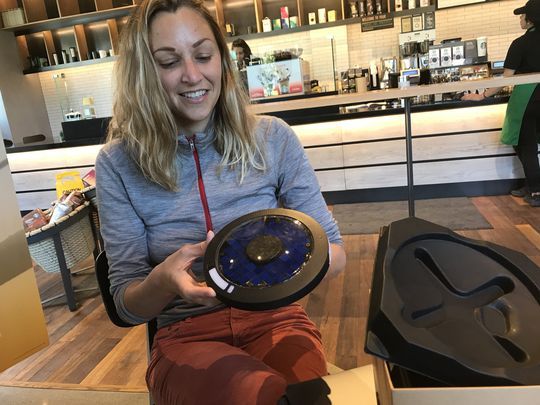 By Amy Wu
The Californian
August 10, 2017 — Salinas, CA
(Photo above: Jess Bollinger is the vice president of strategic partnerships at Arable Labs, Inc., an agtech start-up located in the Western Growers Center for Innovation & Technology in Salinas. Bollinger moved from New York to the Salinas Valley earlier this year with the goal of growing Arable Labs. Credit: Amy Wu)
Inside the Western Growers Center for Innovation & Technology, the agtech incubator, there are now 45 startups including from as far away as Israel and Ireland. This is a tremendous jump from the handful of start-ups when the center launched in December 2015.
By all accounts, the third Forbes AgTech Summit earlier this summer was a success, so there are already plans to bring the marquee tents and ag and tech entrepreneurs back next year.
But the city's goal of transforming itself from agriculture behemoth (a $9 billion industry anchored by lettuce) into an agtech mecca has its critics.
They question the city's annual Forbes Summit sponsorship of $250,000 (not counting the manpower involved), and of continuing to keep SVG Partners (a Silicon Valley based consulting firm) on a monthly $10,000 retainer to expand agtech. They question the return on investment, which could be measured in jobs generated or amount of venture capital money reeled in. This is, after all, the taxpayers' money.
With a possible budget crunch looming on the city's horizon beginning the 2018-19 fiscal year, these are pertinent questions to ask and require answers, but it's equally important to remember that often in life the best things take time, patience and persistence.
Salinas City Manager Ray Corpuz Jr. has repeatedly stressed that "Silicon Valley wasn't built overnight either."
Corpuz views agtech as a platform for job generation, higher paying jobs, and a way to better market the city on a national and global scale. Moreover, the agriculture industry and growers have repeatedly said agtech is necessary as the industry continues to face a severe worker labor shortage, along with water and land limits.
The city is committed to agtech in the long run and keeping the momentum going, Corpuz said.
"People are really interested in mechanizing harvests, machines that can actually cut material in the field and bunch it and package it and put it in a carton. We'd like to automate all of those processes. The principal driver is a severe labor shortage," said Hank Giclas, senior vice president for Western Growers.
While the ultimate outcome of agtech as a key economic engine remains to be seen, agtech remains on the growth trajectory.
Continue reading article here: http://www.thecalifornian.com/story/news/2017/08/09/hello-salinas-agtech-succeeds-summit-but-can-transform-salinas/554156001/
###