Companies
Cruzio's Gigabit Fiber to Begin Construction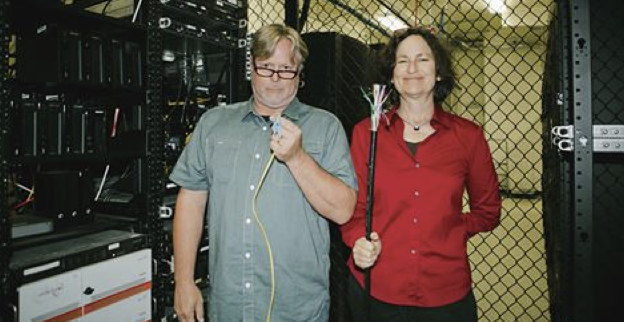 By Matthew Renda
Good Times
August 9, 2017 — Santa Cruz, CA
(Photo above: Chris Neklason and Peggy Dolgenos, cofounders of Cruzio, say their internet—topping out at 1,000 megabits per second—will be a game changer. Credit: Keana Parker.)
Cruzio hopes first run of ambitious project will go online in 2018
Santa Cruz is hemmed in by rolling hills, graduating into coastal mountains, which are cloaked by dense coastal redwood forests that capture the tufts of fog as they roll off the sea. From a business perspective, this relative isolation poses challenges, creating lots of potential for bottlenecks in shipping and transportation.
But Peggy Dolgenos, CEO of local internet service provider (ISP) Cruzio, has never looked at it that way. After starting the company with her husband Chris Neklason in 1989, she has found that the town's separation from the rest of the Bay Area has given Santa Cruz room to grow.
"The geography is difficult for infrastructure," admits Dolgenos. "But while a lot of ISPs have been pushed out by the big boys, we've thrived."
Soon Cruzio will celebrate the unveiling of Santa Cruz Fiber, a project that involves installing fiber optic cable downtown to bring speeds of 1 gigabit per second to customers—50 times faster than what many customers receive now.
In its initial run, the $45 million privately funded project will bring cutting-edge internet capabilities to about a thousand downtown homes and businesses. The company aims to go live next year.
Robert Singleton, the campaign's senior marketing strategist, says locally owned, high-speed internet might be Santa Cruz's least divisive political issue.
"Even if we can't agree to put housing anywhere, we can all at least agree that we want to watch Netflix faster," says Singleton, who's also the executive director of the Santa Cruz County Business Council.
In May, Cruzio secured permits for the project, which will involve digging small trenches under the street to build the first run of the much-anticipated network from North Pacific Avenue to the Cruzio building on Cathcart Street. Cruzio negotiated last year with city leaders to create a public-private partnership and build a bigger network, but talks fell apart, leaving it to seek private funding. If it's successful, Cruzio will secure more funding and keep expanding the network.
As they prepare for a ribbon-cutting on Wednesday, Aug. 16, local officials hope high-speed internet in downtown will attract more tech companies to the city—particularly as thousands of workers commute over Highway 17 on a near daily basis. A 2014 Civinomics study found that 61 percent of those commuting out of the county have a job in a technical field.
Continue reading article here: http://goodtimes.sc/santa-cruz-news/cruzio-gigabit-fiber-begin-construction/
###
Tagged Cruzio, Santa Cruz Fiber