Companies
Community invited to attend Santa Cruz Fiber launch event at Cruzio on August 16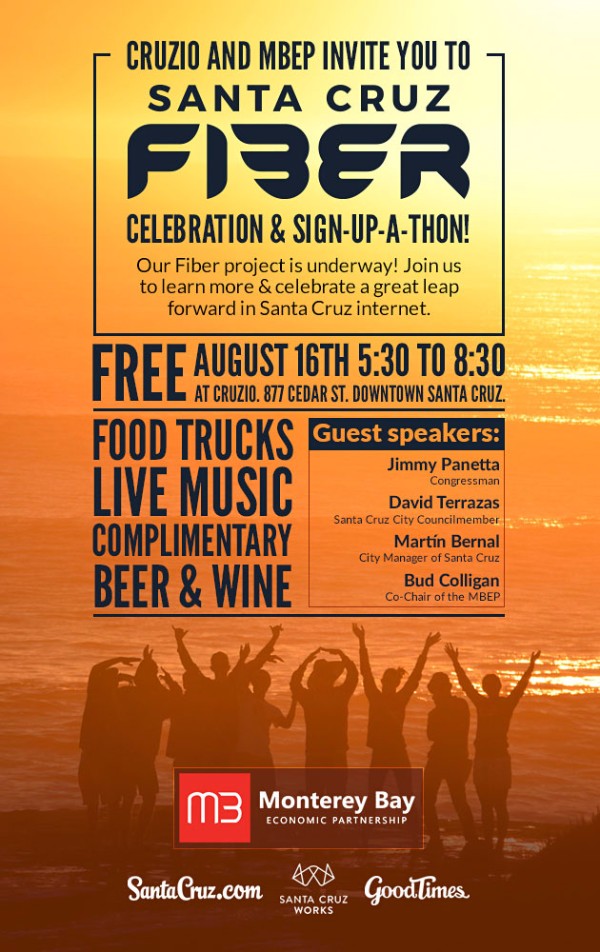 (Contributed)
August 8, 2017 — Santa Cruz, CA
Cruzio to host a public celebration, ceremony, and sign-up-a-thon for its new Santa Cruz Fiber service that brings Gigabit internet to downtown Santa Cruz
Cruzio Internet is joining with a host of community sponsors to throw a launch party on August 16th from 5:30pm to 8:30pm celebrating the construction of its downtown fiber optic network, and the launch of the Santa Cruz Fiber brand and services. The availability of Gigabit internet to both commercial and residential buildings within such a wide area marks a turning point in the modernization of internet infrastructure on the Central Coast, and makes Santa Cruz one of the most competitive places to do business in all of California.
"In the near future the concept of internet speed will be foreign to most people" says James Hackett, Director of Business Development for Santa Cruz Fiber. "No one thinks of other utilities like power or water in terms of how many kilowatts or gallons they are getting, it's either just on or it's not—that is what fiber internet is in terms of how disruptive it will be."
Guest speakers include Congressman Jimmy Panetta, Santa Cruz City Manager Martin Bernal, Santa Cruz Vice Mayor David Terrazas, MBEP Co-Chair Bud Colligan, UC Santa Cruz Interim Vice Chancellor of Information Technology Brad Smith, the Santa Cruz Area Chamber of Commerce CEO Casey Beyer, and Cruzio Internet CEO Peggy Dolgenos.
The project boasts a wide range of community supporters who are all eager to see the development of next generation internet because they see it as a fundamental shift in economic and cultural potential. The Monterey Bay Economic Partnership is a lead sponsor of the event as part of its economic development mission to enhance broadband access across the entire Monterey Bay region. Santa Cruz Works, a coalition of local technology companies that promote Santa Cruz as a premier tech destination, is also supporting the event as a sponsor.
UC Santa Cruz will also sponsoring the event, and the interim Vice Chancellor for Information Technology, Brad Smith, will offer his perspective on the importance of internet infrastructure in a speaking role. The Santa Cruz Area Chamber of Commerce will be performing an augmented version of its "ribbon cutting ceremony" that will incorporate actual fiber optic cables as part of the event programming.
About Cruzio Internet/Santa Cruz Fiber
Founded in 1989, Cruzio is one of the largest independent internet service providers in California, and has recently introduced previously unavailable enterprise-level internet services to Santa Cruz County, representing a huge investment in the Santa Cruz community.
###
Tagged Cruzio, Santa Cruz Fiber