Companies
Tomorrow Sleep launches direct-to-consumer sleep system with Fullpower Technology inside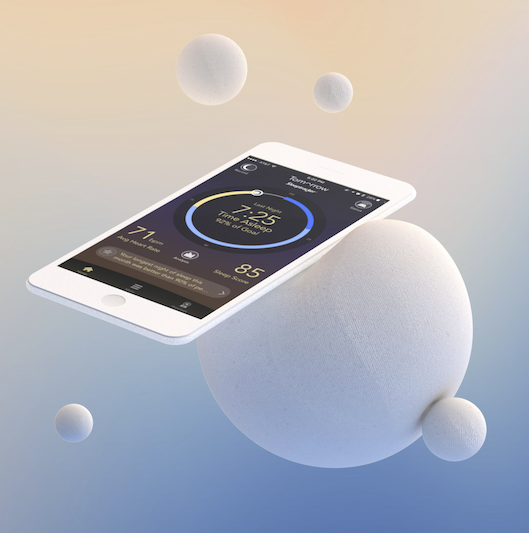 (Contributed)
June 27, 2017 — New York, NY and Santa Cruz, CA
Tomorrow Sleep, Powered by Serta Simmons Bedding, Launches with Innovative Direct-to-Consumer Sleep System
Fullpower's Sleeptracker® technology makes your bed a smart bed
Tomorrow Sleep, a new company powered by Serta Simmons Bedding, LLC ("SSB"), launched today to deliver a system of innovative sleep products via a direct-to-consumer model.
Leveraging the knowledge and research of SSB, the largest manufacturer and distributor of mattresses in the United States, Tomorrow has created the first truly connected sleep system with smart technology designed to transform the sleep experience, helping people achieve deep and restorative rest.
"We created Tomorrow Sleep because we believe in the power of sleep to change lives," said Bryan Murphy, Founder and President of Tomorrow Sleep.  "We saw that people are increasingly becoming aware of the importance of sleep as a cornerstone of wellness and there wasn't a great solution to address that need in the direct-to-consumer space. We're excited to bring a truly integrated sleep system to market that will help people achieve their best sleep possible."
Tomorrow is able to invest in the highest quality materials and offer unmatched products at the best value by controlling its supply chain and manufacturing its mattresses in SSB-owned American factories.
"We are excited to launch a unique direct-to-consumer brand that will be independently run and managed, while still leveraging the strong technology, innovation and manufacturing resources within SSB," said Michael Traub, SSB Chief Executive Officer.  "Tomorrow is a fantastic addition to our best-selling portfolio of brands that will address the consumer segment which prefers an online shopping experience."
Elements of the sleep system include:
The Hybrid Mattress – Tomorrow's new hybrid mattress combines premium temperature regulating memory foam with a gently stabilizing, wrapped coil system that provides the perfect balance of comfort and support. Expertly designed and tirelessly tested, every coil in the Tomorrow mattress flexes separately to give the user unparalleled head-to-toe support, while the patented ventilated rail system maintains a well-balanced climate all night long.  Tomorrow's mattress is available in two distinct feels, firm and plush.
The Sleeptracker® Monitor – Equipped with bio sensors to monitor and record sleep cycles, body movements and heart rate, the Sleeptracker® monitor delivers personalized suggestions for better sleep.
The sleep system also includes pillows, sheets, comforters, drapes, and mattress protectors.
Tomorrow products are sold individually, with mattresses starting at $550, and entire sleep systems starting at $1,300. All items are available for purchase at  TomorrowSleep.com.
[Editor's note: Here's some additional information from Fullpower:
Fullpower is focused on the PaaS model: we are not a product company, but rather we help our partners make products powered by machine learning & AI.
Fullpower has partnered with the best in the bedding industry to offer the first cloud-based, non-invasive IoT sleep optimization solution powered by artificial intelligence and integrated into the smart home. The Sleeptracker® monitor's sensors slip discreetly underneath your mattress to accurately monitor sleep throughout the night without affecting your comfort. Sleeptracker® technology will work with any mattress and any bedding to provide measurable, quantified data on your sleep quality and performance.
Additionally, the Sleeptracker® AI Sleep Coach analyzes your sleep information to deliver unmatched personalized tips and insights every day to help you improve your sleep every night. The Sleeptracker® AI Coach also scores your sleep daily so that you can measure incremental improvements and see significant progress as your sleep score improves. The users' sleep information is emailed to them every day as well as available on the Sleeptracker® iOs or Android app.]
About Tomorrow Sleep, LLC
Tomorrow Sleep, LLC ("Tomorrow") is a new sleep company that combines a direct-to-consumer ethos with 100 years of American manufacturing expertise. Leveraging the knowledge and research of industry leader Serta Simmons Bedding, Tomorrow created its innovative, holistic system—hybrid mattress and protector, sheets, pillows, comforter, blackout curtains and digital sleep monitor— designed to help people sleep more efficiently and effectively.  For more information on Tomorrow, visit www.tomorrowsleep.com.
About Serta Simmons Bedding, LLC
Serta Simmons Bedding, LLC ("SSB") is the largest distributor and manufacturer of mattresses in the United States. The Atlanta-based company owns and manages two of the largest bedding brands in the mattress industry, Serta®, which has five other independent licensees, and Beautyrest®. The two brands are distributed through national, hospitality, and regional and independent channels throughout North America. SSB operates 32 manufacturing plants in the United States, six in Canada and one in Puerto Rico. For more information about SSB and its brands, visit www.sertasimmons.com.
The Fullpower Sleeptracker® and MotionX® patented ecosystems are the leading cloud-based IoT and AI PaaS and SaaS solutions. Fullpower IP portfolio and expertise in life-cycle management for dynamic and complex distributed cloud-based AI and IoT solutions powered by data science gives our partners a considerable technology, IP, time-to-market, scalability, cost-structure and reliability advantage. https://www.fullpower.com/home/technology
###
Tagged Fullpower, SleepTracker