Companies
Four startups selected to participate in UCSC-funded accelerator pilot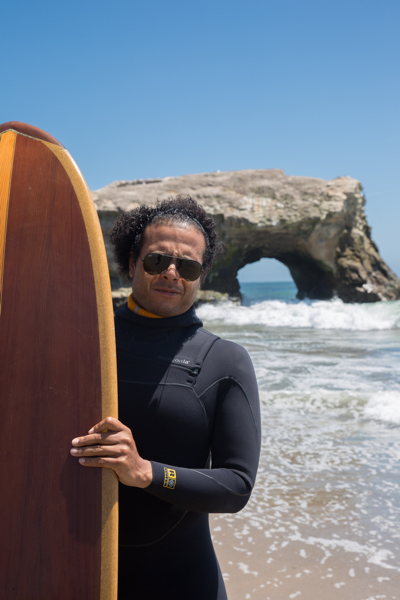 (Contributed)
June 8, 2017 — Santa Cruz, CA
(Photo above: John Tauriac is the founder of Santa Cruz Wave Works, a startup that collects wave energy raw data and coverts it into safety information for surfers. Credit: Carolyn Lagattuta)
UC Santa Cruz is supporting the launch of an off-campus accelerator to jump-start technology businesses. Three campus-connected ventures—Fuzz Stati0n, Santa Cruz Wave Works, and Scoot Science—along with a fourth startup, PhotoBloomAR, will begin a pilot cohort with Santa Cruz Accelerates this month. 
The UCSC Office of Research will provide $500,000 for the accelerator program to serve early-stage technology businesses that have a product but haven't started selling it. The accelerator will be run by Santa Cruz Works, a local nonprofit that supports science and technology companies.
Mohamed Abousalem, assistant vice chancellor for Research, Industry Alliances and Technology Commercialization, said the University of California is committed to ensuring that the knowledge and research developed on its campuses are used to the fullest possible extent so the benefits reach the public.
"UC Santa Cruz is supporting Santa Cruz Accelerates in an effort to further UC's educational and scientific research purposes through an accelerated commercialization mechanism that provides entrepreneurial education, training, support, mentorship, and funding opportunities," said Abousalem, who joined campus a year ago. "This will help generate economic development in the community through our intellectual capital and innovation."  
The accelerator is one of seven programs supported by UC Santa Cruz that will help local entrepreneurs take their businesses to the next level. The effort is supported by a $2.2 million innovation-and-entrepreneurship investment from the state and matching funding from outside private sources.
Operating under the umbrella of the Support Program for Long-term Innovation, Commercialization & Entrepreneurship (SPLICE), the other initiatives include:
two business incubators, Startup Sandbox in Santa Cruz and SVLink at the Silicon Valley campus;

the IDEA Hub, launched by the Center for Innovation and Entrepreneurship Development (CIED);

a new arts program, Internship for Creative Entrepreneurship (ICE);

another arts program called Games Grant Opportunity (GameGO); and

a "proof-of-concept" grant program for researchers called Launchpad.
The four startups chosen for the pilot program are:

Another startup, Cruz Foam, co-founded by Marco Rolandi, associate professor in the Electrical Engineering Department, and Ph.D. candidate John Felts, will join the accelerator in September, along with two other companies. It transforms shrimp shells into surfboards in an effort to shape the future of sustainable surfing.
###
Tagged Santa Cruz Accelerates, UC Santa Cruz