Companies
Watch: Data Analytics in Virtual Reality… Because Why Not?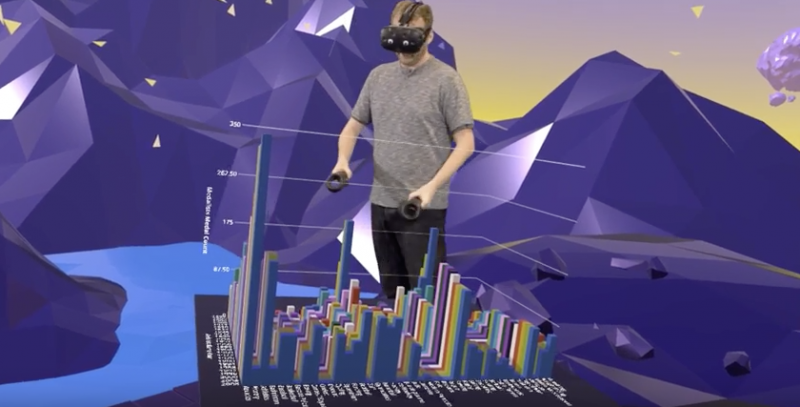 By Wil Gieseler
Looker Engineering
February 8, 2017 — Santa Cruz, CA
The Creation of LookVR
On the engineering team at Looker we regularly do hack days where we can put aside our normal project and try to come up with out-of-the-box or weird ideas that we'd never normally get to do as part of our real jobs. At the last hack day, I thought it might be fun to use Looker's API to experiment with data visualization in virtual reality.
Here's a video of it in action:
People have been experimenting with virtual reality a lot over the years, but until the latest round of headsets (the HTC Vive and Oculus Rift) it's always felt like a toy. With a great developer community and VR tools built into all the major video game engines, it was really easy to start hacking around on getting Looker connected to a VR application.
The great thing about the Looker API is, when I started hacking, I didn't have to hack on top of the raw dataset. I could simply connect to an existing data model and access all the rich transformations and business logic it contained. If I want to update the metrics, I can just do it in Looker and everything that points to it immediately updates. And by implementing my project on top of Looker, it means that the work I did is portable – if I want to use it on a different dataset I can just switch to it. It's one API for any type of data.
Continue reading article here: https://looker.com/blog/creation-of-lookvr
###
Tagged Looker