Events
Application deadline for Startup Challenge Monterey Bay is March 13, 2017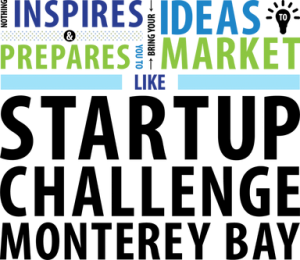 (Source: The Startup Challenge Website)
February 3, 2017 — Seaside, CA
Startup Challenge Monterey Bay is a regional new business competition and acceleration program for entrepreneurs in Monterey, San Benito and Santa Cruz counties.
The Challenge is held annually, organized by a team of community volunteers and hosted by the Institute for Innovation and Economic Development of CSU, Monterey Bay. It is a competitive acceleration process that teaches, coaches, mentors, networks, and connects entrepreneurs to the knowledge and resources they need. Prospective entrepreneurs, start-ups and emerging companies showcase and develop their business concepts while competing for prizes. The Challenge provides workshops and mentoring to support the founding, funding and growth of new and innovative businesses in the Monterey Bay region. The Challenge empowers entrepreneurs to communicate their ideas effectively to investors, customers and employees.
Dates and Deadlines
March 13, 2017 – Application Deadline: Last day to submit your online application to compete in the 2017 Startup Challenge competition
April 8, 2017 – Qualifying Round: 5 minute business pitch to a panel of judges. Finalists will be selected that day for the Final Round.
May 12, 2017 – Final Round: 10 minute business pitch to a panel of judges. Student and Main Street winner announced. Top three Venture Finalists selected to compete in the afternoon Otter Tank.
May 12, 2017 – Venture Showcase: Open to the public. Finalist Exhibit Hall. Otter Tank Competition. Award Presentation. Reception
There are three divisions in the competition
Venture Division is open to businesses that are intended to scale and provide venture-investor level returns.  The Winner receives $20,000 in cash and the two runner-ups each receive $5,000 in cash.
Main Street Division is open to small businesses, sole proprietorships, and non-profits.  The Winner receives $10,000 in cash; the runner-up will receive $2,500 in cash.
Student Division is open to students in high school, community colleges, colleges, and graduate schools.  The Winner receives $1,500 in cash.
For more information
Go to http://thestartupchallenge.org
To Apply
Go to https://app.reviewr.com/s1/site/TheStartupChallenge2017
###
Tagged The Startup Challenge