Featured
Elevating Innovation at CSUMB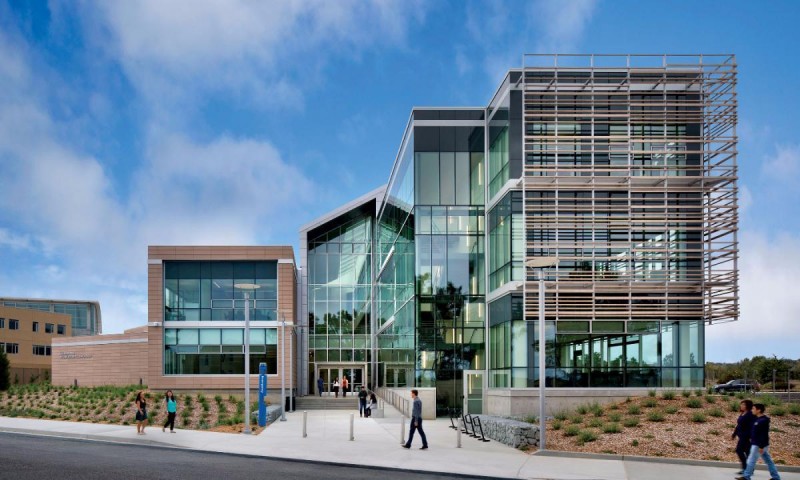 By Scott Roark
CSUMB
December 9, 2015 — Marina, CA
(Photo above: The front entrance of the CSUMB Business and Information Technology building. Credit: David Wakely)
CSUMB takes convergence of business and technology to the next level
Describe a relationship between the business and technology programs at most major universities. One word usually comes to mind: siloed. Another word is disconnected. On many campuses, they operate in two different universes.
Business students who develop marketing plans are often challenged trying to overcome the technological obstacles when gathering the data. Technology majors don't usually work on group projects with fellow students who plan to start a business.
Not at CSUMB.
Thanks to the opening of the new Business and Information Technology (BIT) building, the College of Business and the School of Computing and Design are starting a new era of collaboration. The two programs are now housed in a gleaming 58,000-square-foot structure, allowing students to work side-by-side in multidisciplinary teams.
This approach is straight out of the business world, providing students with real-world skills and practical knowledge when they enter the job market.
Eric Tao, a professor in the School of Computing and Design and the director of the Institute for Innovation and Economic Development, was a driving force behind the conception and development of the BIT building. For his students, working closely with business students provides valuable perspective on the limits of technology. "A student can have an idea that looks fabulous on paper – but there could be no market for it," he said. "You need to establish there's a need for your product."
For business students, who are often focused on profit margins and management, the technological knowledge to implement a product launch is invaluable, according to Shyam Kamath, dean of the College of Business.
"We are changing the way we teach. We are changing the way we research. The skills needed by students for the job market today are very different from yesterday," said Kamath. "You need human skills in management and also need to be digitally knowledgeable, using critical thinking and learning quickly to keep pace with technology. This facility allows us to work together. The labs represent that potential."
Continue reading article here: https://csumb.edu/magazine/elevating-innovation
###
Tagged CSUMB