Companies
Auto Tech at CES 2017 and Beyond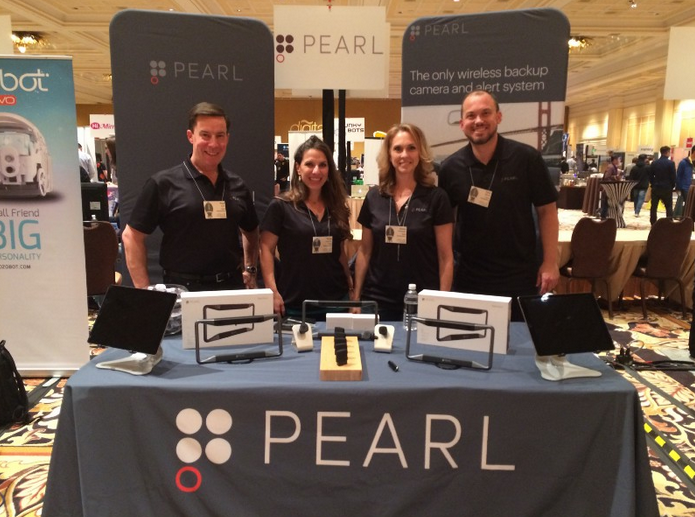 By Diana Cartwright
VP of Marketing, Pearl Auto
January 18, 2017 — Scotts Valley, CA
(Photo above: Pearl Auto team represents at CES 2016. Source: Pearl blog)
"This first hand CES experience only further empowers us on our mission to provide the latest technology to the 260 million plus existing cars on the road today."
We had a fantastic CES 2017, especially with so much focus and innovation in auto technology! We all know that the auto industry is ripe for change and several companies were front and center this year including NVIDIA who partnered with Audi for a self-driving Q7, and Amazon who's at the forefront of completely rethinking the in-car experience with Alexa. The caliber of companies and talent showing off their latest tech at the show is a true testament to the monumental change we'll see in auto in the coming years.
Almost every major car manufacturer had some kind of self driving technology being demonstrated at CES this year. All of these exciting announcements had one thing in common — they all want you to buy a new car. We want to update your existing car. This first hand CES experience only further empowers us on our mission to provide the latest technology to the 260 million plus existing cars on the road today.
Paving our way toward this goal is our first product, RearVision, the only truly wireless backup camera and alert system. RearVision consistently provides the latest technology to the consumer because it's the only aftermarket backup camera that learns and improves over time to deliver the latest features to your vehicle. As a matter of fact, since launching the product in September, we've already delivered four updates that include a number of most asked for features from customers such as Smart Parking Guidelines and Auto-Launch.
Continue reading article here: https://blog.pearlauto.com/auto-tech-at-ces-2017-and-beyond-a8d84012bd0#.csqyqntsf
###
Tagged Pearl Automation Inc.