Events
Pitch Slam! students compete at 2nd annual event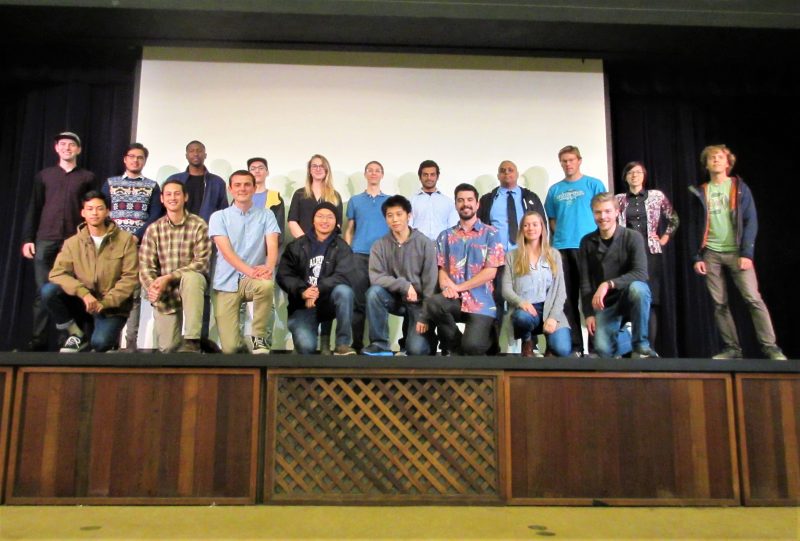 By Sonya Newlyn
Center for Innovation and Entrepreneurial Development (CIED)
December 4, 2016 — Santa Cruz, CA
(Photo above: Participants complete at UCSC Pitch Slam! on November 29, 2016. Contributed.)
The UC Santa Cruz Center for Innovation and Entrepreneurial Development (CIED) held its second annual Pitch Slam! business-pitch competition November 29, 2016, at the Cowell/Stevenson Dining Commons.
CIED's second crop of student entrepreneurs entertained the audience and entrepreneurial judges with their lively business pitches from handheld technological devices to software applications, and everyone got to enjoy pizza and sodas between the two groups of presenters. The pitched businesses did everything from test crops for microtoxins (Mycologics), get your home hydroponic garden growing (Urbavore), provide a cloud platform for musicians to collaborate (Midinote), match artisans and craftspeople with students (Aha!), track the motion of a device on weights and log form and repetitions online (Barbell Tracking), provide project management for open-source development (Smart Contract Open Source), acquire and manage emails (Plume), synthesize biological chemicals (Aether), analyze plants for CO2 absorption (Green Seedling Technologies), and produce power from solar patio umbrellas and picnic tables (Formula Slug Solar).
5th annual Business Design Showcase is April 18, 2017
The winners and honorable mentions are invited to participate in CIED's 5th annual Business Design Showcase on April 18, 2017, at the UCSC Silicon Valley Campus in Santa Clara. Until then, CIED will mentor these Pitch Slam winners to prepare them for the much bigger, more intense, and invitation-only Showcase. If you're a VC or angel investor interested in volunteering as a mentor to any of these businesses, winners, honorable mentions, or also-rans, or if you're interested in judging and/or attending the UC Santa Cruz Business Design Showcase on April 18, please contact CIED at cied@ucsc.edu. We're serious about helping our students take their business ideas from thought to fully fledged business plan, working prototype, and actual company. Help us help them become entrepreneurs!
Pitch Slam students — solo or on teams — competed in two categories of business ideas:
general technological devices and/or applications
environmentally sustainable devices and/or applications
Our  judges were:
Glenn Alers, CEO of Soliculture and professor of physics at UCSC
Alireza Chavosh, post-doctoral scholar and instructor in technology & information management at UCSC
Ronnie Lipschutz, provost of Rachel Carson College and professor of politics at UCSC
Liz Mackellar, product strategy consultant, market research manager, new ventures leader
The audience of students and Santa Cruz community members in attendance voted for their favorite 3-minute pitches in each group of competitors, and the judges chose the top four pitches and two honorable mentions from the audience's top vote-getters. The judges were allowed and used one save of a business not in the audience's top picks. The winners are as follows.
Best four pitches, winning $500 each:
Aether, a synthetic biology company, by Pavle Jeremic
Mycologics, a handheld device for testing crops for microtoxins, by Hannah Meyers
Plume, an email acquisition and management platform, by Chase Armer
Real Time, a campus club online connection service, by Vernon Coleman and Kevin Robertson
Two honorable mentions, winning $200 each:
Barbell Trainer, a barbell/weight motion-tracking device automatically updating a software application, by Wuyuan Chen and Rohan Jobanputra
Green Seedling Technologies, a CO2 analysis system, by Lydia Seymour
###
Tagged CIED, UC Santa Cruz