Companies
MBEP Announces New Regional Dashboard to Track Progress in Key Domains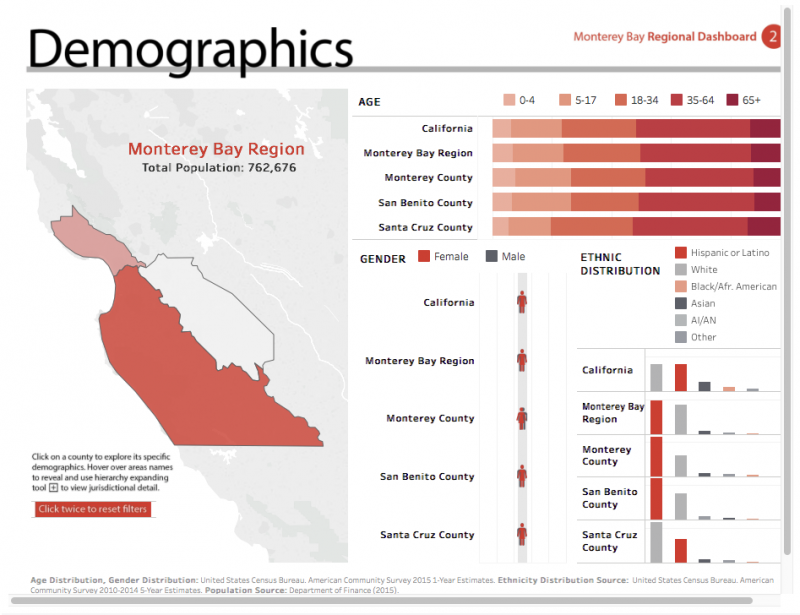 (Contributed)
December 5, 2016 — Marina, CA
Last Friday, the Monterey Bay Economic Partnership (MBEP) announced that it has collaborated with Applied Survey Research (ASR) to create the Monterey Bay Regional Dashboard that provides key indicators to measure regional well-being. The new data, available today on MBEP's website, provides a snapshot by city, county and region of key well-being indicators across eight different categories. These indicators will be tracked annually, creating a longitudinal perspective of our region. The new dashboard was introduced today at MBEP's Second Annual State of the Region conference at the Embassy Suites in Seaside. The theme of the conference is "Catalyzing Community Well-Being.".
Data is being collected and tracked in the following domains: Education, Economic Vitality, Housing, Health, Infrastructure, Transportation, Public Safety and the Natural Environment. Data in each category provides a starting point for businesses, educational institutions, non-profit groups and government to assess the well-being of residents in the tri-county area and formulate action to improve it.
MBEP is grateful to our generous Regional Dashboard sponsors who made this project possible, and with whom we will be working to fine tune our approach in the coming years and collaborate on initiatives to improve the state of the region. Dignity Health Dominican Hospital is the Presenting Sponsor. "For generations, we have invested in the well-being of our community. MBEP's new Regional Dashboard offers a harmonized approach to track and synchronize efforts across the region. Using a common data structure to focus on results aligns with our values, and our commitment to strengthening the community and improving the health and well-being of all our residents," said Nanette Mickiewicz, M.D., President, Dignity Health Dominican Hospital. Other domain sponsors include UC Santa Cruz, Cal State University Monterey Bay, City of Salinas, MidPen Housing, Eden Housing, Central California Alliance for Health, AMBAG and the Coastal Watershed Council.
The interactive Regional Dashboard, available on MBEP's website (www.mbep.biz), includes regional, county and city-level data.
About MBEP: The Monterey Bay Economic Partnership (MBEP) is a regional nonprofit, membership organization consisting of public, private and civic entities located throughout the counties of Monterey, San Benito and Santa Cruz. MBEP's mission is to catalyze and lead change to make a positive difference in the economic health and quality of life in the Monterey Bay Region.
###
Tagged MBEP