Companies
Taylor Farms looks to new technologies to attract millennial workers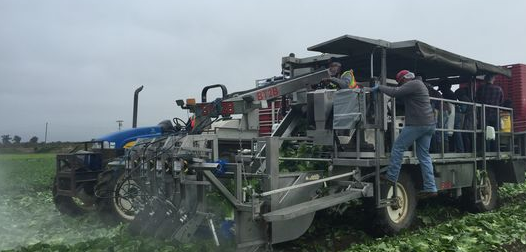 By Amy Wu
The Californian
August 25, 2016 — Salinas, CA
(Photo above: Taylor Farms is stepping up its automated technologies to increase efficiency and attract younger workers. Credit: Amy Wu)
Israel Ramirez considers himself an anomaly, at least for now. At 21 he is one of the youngest farm workers in an industry that known for its aging workforce.
But as agriculture companies find ways to introduce new technologies, younger workers such as Ramirez are increasingly attracted to the work.
Field workers are critical to an industry that is a key economic driver in this region. In Salinas Valley the agriculture business is estimated at $9 billion, and includes produce giants Taylor Farms, Driscoll's and Church Brothers.
Taylor Farms has an estimated 1,500 field workers – many of them contracted – and on any day 67 crews in the fields.
The average worker's age is 48 with the majority ranging from 48 to 75, said Albert Garnica, Taylor Farms' vice president harvest operations who supervises the fields.
Over the past decade the company like many in the industry has faced an ongoing labor shortage, caused by an aging workforce, a growing demand for salad and cut vegetables, a tighter regulatory environment when in California and the increased costs of doing business.
Industry players say the industry is often overshadowed by the attraction of working in industries such as tourism or construction.
"Mom and dad want their kids to do something better than what they did," said Paul Muthart, a grower at Pasquinelli Produce Co. in Yuma, Arizona, which has been challenging with finding younger workers as their workforce ages. "Heck even changing beds in Vegas is better than working out in the heat and the mud… Again it comes down to the glamour of what we do."
The shortage has been so severe that the industry has been bringing in workers on H2A visas, a temporary work visa for foreign farm workers. Garnica said roughly 40% of field workers in Salinas Valley are on H2A visas.
Muthart said 60% of their field workers are over 50 and a fifth of their work force is over 60. The company works hard to retain older workers in part because it is harder to find replacements, especially younger workers.
"I can confirm that our population is for sure aging and it's a concern to us," he said. "Frankly I don't know what we will do to attract young people into the work we do."  Muthart said he believes the challenge in recruiting goes beyond the money. At Pasquinelli, a 9,000 acre farm in Yuma that grows cauliflower and celery, workers are entitled to pension, healthcare and $2 more than Arizona's $8.05 an hour minimum wage. He said negatives are the work is seasonal and often requires relocating.
New technologies, new generation
Taylor Farms' response to the labor shortage has been to step up its harvesting technology. The goal is to reduce costs, increase efficiency and woo younger workers, said Chris Rotticci, Director of Automated Harvest Equipment at Taylor Farms.
Continue reading article here: http://www.thecalifornian.com/story/news/2016/08/24/taylor-farms-looks-new-technologies-attract-millennial-workers/89231804/
Tagged agtech, Taylor Farms