Companies
SVG Partners Launch THRIVE III Open Innovation Program

Sara Isenberg
Founder, Publisher, Editor-in-Chief, Santa Cruz Tech Beat
July 20, 2016 — Salinas, CA
[Editor's note: Last week, Santa Cruz Tech Beat published a photo-essay article, Forbes Summit brings innovative agtech industry to Salinas, that included winner's of this year's THRIVE II Accelerator awards.]
THRIVE III will bring together corporate partners and startups to ideate, build, and scale solutions in agriculture technology.
In response to its growing partner base and a 500-strong startup community, SVG Partners announces they are launching the THRIVE III Open Innovation program to connect the expertise of tech companies to on-the-ground knowledge of agricultural companies, the financial backing of investors, and the innovation of entrepreneurs.
The Open Innovation program builds on SVG Partner's years of work engaging with agriculture companies and local organizations in Salinas to transform the historic agriculture region into the world's premier agtech hub. THRIVE's Open Innovation program aims to identify key challenges in agriculture and scale and prove technology solutions through direct collaboration with agriculture companies and their growers.
"By surveying our agriculture partner companies to understand the problems faced in agriculture and by identifying innovative solutions with the potential for proven scale, Open Innovation is a critical framework for building trust and scalable runway for agriculture technology." said SVG Partners and THRIVE founder John Hartnett, "Open Innovation was launched to bridge startup companies with growers and agriculture companies to build trust and credibility around new innovation," he added.
New Partners
On the heels of a successful second accelerator class, SVG Partners recently announced that Wells Fargo, Yamaha, Panasonic, and SAP have joined the THRIVE AgTech Program.
The collaborative effort between SVG Partners and Wells Fargo will combine SVG's expertise in growing and scaling global technology companies with Wells Fargo's financial mentorship and philanthropic support to help speed up commercialization for technologies in the agriculture sector. Grant funds from the Wells Fargo foundation will support commercialization opportunities for agriculture and internet-of-things startup companies, and help deepen the connection between agriculture and environmental initiatives with Wells Fargo's customers, communities, nonprofits, universities, and business groups.
As a leading category leader in vertical farming automation solutions in APJ, Panasonic is committed to the continued development agriculture technology solutions that provide efficient and sustainable crop production. Together with SVG Partners, Panasonic aims to strengthen its existing capabilities around vertical farming while also accelerating the development of other proprietary technologies. The firms will co-innovate on case studies involving Panasonic's computer vision, machine learning, robotics and sensor technologies with the aim of improving crop harvesting methods, detection of crop disease, and increasing accuracy of weather prediction. Panasonic will look to SVG Partners to help deliver scalable agriculture solutions to a global community of growers at the enterprise and consumer levels.
As the agriculture sector embraces unmanned farming practices, Yamaha Motors is expanding into the market with its helicopter, a drone used for its spraying application that has logged more than 2 million hours in Japan, South Korea and Australia. Yamaha Motor Ventures & Lab Silicon Valley will look to SVG Partners to expand its foothold in the unmanned vehicle to other platform applications, leveraging its growing ecosystem of agriculture customers and startup companies. With Yamaha's agricultural drones already proven to spray five times faster than workers using tractors, the push to bring reliable robotics and applications is already underway.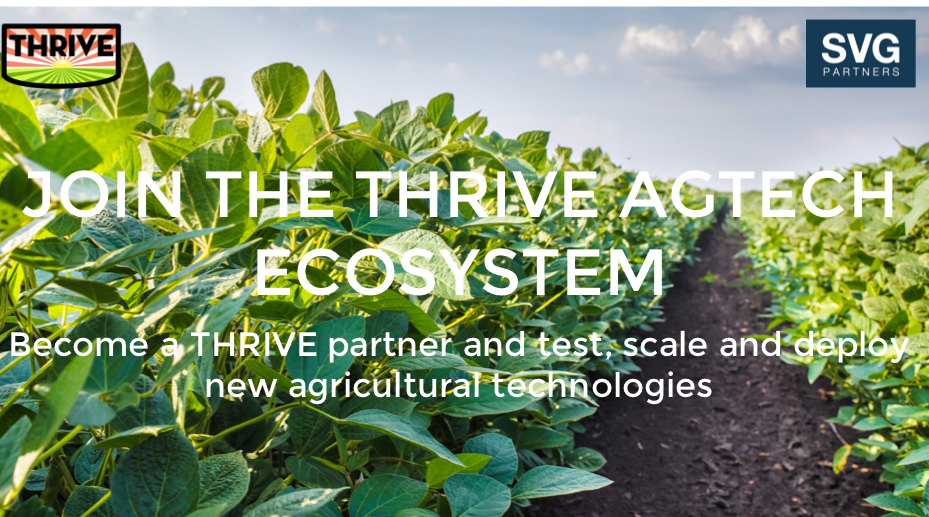 ABOUT SVG PARTNERS
SVG Partners is an investment, technology and advisory firm that partners with organizations on strategy, innovation and global expansion. Since 2007, SVG's experience team of senior technology leaders and venture capital investors have worked with global corporations and scaling companies to drive competitive advantage from strategy to implementation. Through its accelerator and open Innovation programs, engineering and development services, and executive strategy and advisory, SVG Partners helps build and scale innovative technology companies worldwide. SVG Partners is based in Silicon Valley, CA. www.svgpartners.com
ABOUT THRIVE AGTECH
THRIVE AgTech's mission is to connect the expertise of tech companies to on-the-ground knowledge of agricultural companies, the financial backing of investors, and the entrepreneurs solving problems in the AgTech space. THRIVE unites these communities in order to drive the development and adoption of sustainable technology enhancements necessary for securing the global food demands of the future. The THRIVE program targets two stages of companies: the very early to commercially ready. Early stage companies accepted into the program go through a rigorous bootcamp and receive mentorship from industry leaders to help them scale their companies. THRIVE's new Open Innovation program directly connects corporate partners with high growth startups to trial and deploy cutting edge technologies focused on agriculture. www.thriveagtech.com
###
Tagged agtech, Salinas, Salinas Valley, SVG Partners, Thrive Accelerator