Companies
Calliope wins prize money, engineering & design support at ASME Innovation Showcase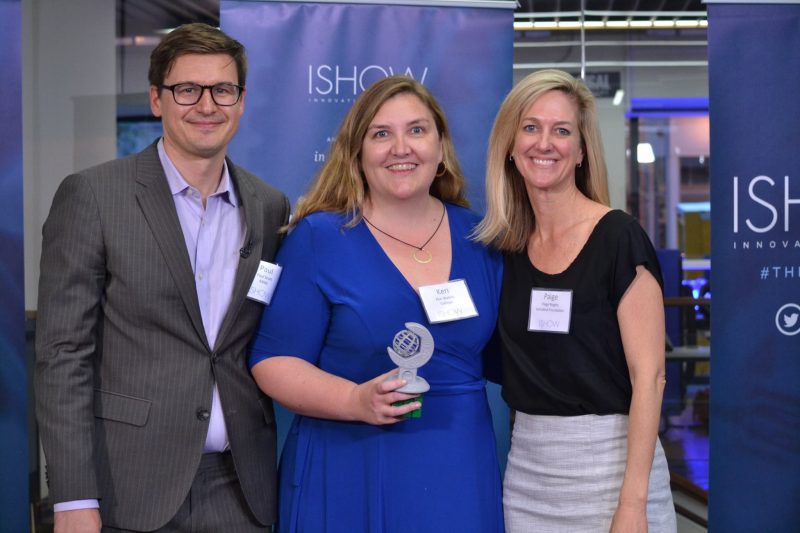 By Sara Isenberg
Founder, Publisher, Editor-in-Chief, Santa Cruz Tech Beat
June 29, 2016 — Santa Cruz, CA
(Photo above: Paul Scott, Dir., Engineering for Global Development, American Society of Mechanical Engineers; Keri Waters, CEO, Calliope Waterworks; Paige Rodgers, Head of Communications & Partnerships, Autodesk Foundation. Contributed)
I love it when folks send me news tips but most of the time I'm on my own to find out what's up in local tech. Imagine my delight when I saw the following post on Calliope CEO Keri Waters' Facebook page:
"We're taking a little victory lap on our way home from Washington, DC, as WINNERS of the ASME iSHOW! We won prize money, engineering and design support, and this super awesome 3D printed trophy. Seriously, we can't stop playing with it. Thank you to the American Society of Mechanical Engineers!"
Most regular readers of Santa Cruz Tech Beat are familiar with Calliope. We published a recent article about their product, Buoy. But their win at the ASME iSHOW Innovation Showcase was news to me so I contacted Hilary Bryant, Calliope's CMO, to get more details about the good news.
SCTB: What happened in Washington DC? What is ASME?
HB: The ASME ISHOW from the American Society of Mechanical Engineers competition was open to individuals and organizations taking physical products to market that will have a social impact. The eight themes that the contest focuses on are water & sanitation, energy, environment, food & agriculture, economic development & community empowerment, safety and education.
All applicants were required to have an existing prototype. Calliope was one of 10 finalists that pitched the panel of judges in Washington DC on June 16, 2016.
SCTB: What is the significance for Calliope for being at the event in DC?
HB: We have made a deep commitment to building a hardware product that works and makes a difference in the world. It is an honor to be recognized by the American Society of Mechanical Engineers.
SCTB: What did you win?
HB: $20K in prize money and an extensive design and engineering review by a panel of experts.
Learn more about the other ASME iSHOW winners and finalists:
https://thisishardware.org/competition/2016/usa
###
If you wish to republish this article, please follow our Terms of Use.
###
Tagged Calliope Waterworks