Events
The Sammy Showcase is a massive festival of student games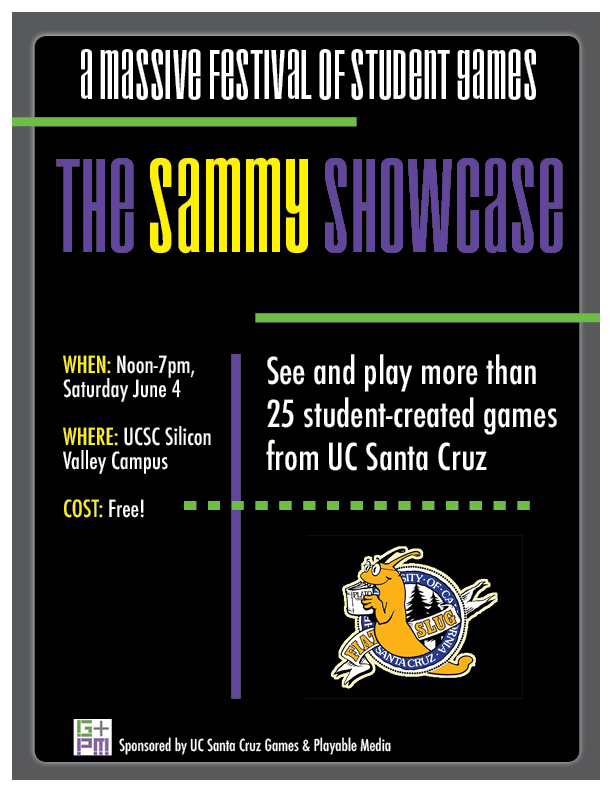 (Contributed)
June 2, 2016 — Santa Clara, CA
UC Santa Cruz Masters Students to Show Capstone Videogames in Public Showcase
Sammy Showcase
UC Santa Cruz Masters Students Capstone Videogames
Saturday, June 4, 2016 from 12:00 PM to 7:00 PM (PDT)
3175 Bowers Avenue, Santa Clara, CA 95054
RSVP at Eventbrite
The UC Santa Cruz Games & Playable Media program invites the public to play the newly­complete videogames created by graduate and undergraduate students. This event marks the first time the 2016 games will be shown to the general public, and the first time UCSC has shown games from the undergraduate and graduate programs all in one place.
This event, named the "Sammy Showcase" in honor of UCSC mascot Sammy the Slug, is taking place at the newly­ renovated UCSC Silicon Valley Campus in Santa Clara.
Friends, family, and the general public are all welcome to attend, play the games, and meet the student creators. The event will also be live broadcast on TwitchTV from 1 ­ 4pm at http://twitch.tv/ucscgpm.
A panel of industry professionals and alumni will be judging each game based on technical and artistic achievement, with the winners taking home a coveted Sammy Award at The Sammy Awards Show the following week.
About UC Santa Cruz Games Programs
UC Santa Cruz is in its tenth year of offering video game specific education, and boasts programs at both the undergraduate and graduate levels. UCSC student games have won numerous awards, and both the undergraduate and graduate programs are ranked among the top in the nation by the Princeton Review.
###
Tagged Baskin School of Engineering, UC Santa Cruz, UCSC Sammy Awards