Companies
Are you in the 82%? Come to April 22 Micro-Business Summit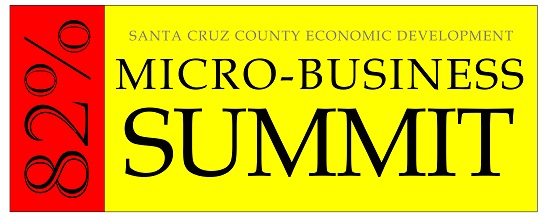 By Sara Isenberg
Publisher, Founder, Editor -in-Chief, Santa Cruz Tech Beat
March 17, 2016 — Aptos, CA
"This conference is intended to help those just starting out become the next Odwalla or Santa Cruz Skateboards, or even Plantronics or West Marine."
82%: A Micro-Business Summit 
Friday, April 22, 2016, 8am – 6:30pm
Cabrillo College, 6500 Soquel Dr., Aptos, CA
$49 (includes food, beverage, and more — see below)
Purchase tickets: https://82percent.eventbrite.com

Tickets to the upcoming "82%: A Micro-Business Summit" are on sale through Eventbrite, the County of Santa Cruz announced Monday.
"Santa Cruz County has a long tradition of incubating vibrant, successful, one-of-a-kind businesses that employ the majority of our workforce," County Economic Development Coordinator Barbara Mason said. "This conference is intended to help those just starting out become the next Odwalla or Santa Cruz Skateboards, or even Plantronics or West Marine."
Why 82 Percent?
Eighty-two percent of local businesses have nine or fewer employees, classifying them as micro-entrepreneurs. The County, along with partners Central Coast Small Business Development Center, Slingshot SV, and the San Lorenzo Valley Chamber of Commerce, wants to recognize the backbone of our local economy by holding an annual event that honors their spirit while giving them real-world tools to apply during day-to-day operations.
Education Sessions
Open to 500 local small businesses, the April 22 conference at Cabrillo College will feature a keynote speaker and two dozen education sessions to help small business owners navigate the marketplace to increase their exposure, grow their business and boost profitability.
Keynote speaker
The keynote speaker is Kent Burnes, a nationally recognized small business consultant, author, and trainer. Burnes will talk about Building Customer Relationships in a Techno Age, including expanding your market, increasing sales, maximizing profits. Small businesses can glean lessons from large companies by converting customer information into a customer relationship. Burns will take attendees inside the world of what it takes to expand your base, get more out of your existing customers and ensure a long relationship with those that buy.
Tickets
Tickets are $49 and include admission to all sessions, as well as a welcome bag, breakfast, lunch and an evening food and wine mixer that includes a free raffle of business-related goods and services, including a PayPal Chip Card Reader, a custom app for your business, signage services, gift cards and more. Purchase tickets here: https://82percent.eventbrite.com
"82%: A Micro-Business Summit" was created by the County Office for Economic Development, Central Coast Small Business Development Center, Slingshot SV and the San Lorenzo Valley Chamber of Commerce. Partners include Think Local First, Aptos Chamber of Commerce, Capitola Soquel Chamber of Commerce, Pajaro Valley Chamber of Commerce and Agriculture and the Scotts Valley Chamber of Commerce.
###
Tagged Cabrillo College, County of Santa Cruz